Jhyamma Jhyamma by Shrinkhala Joshi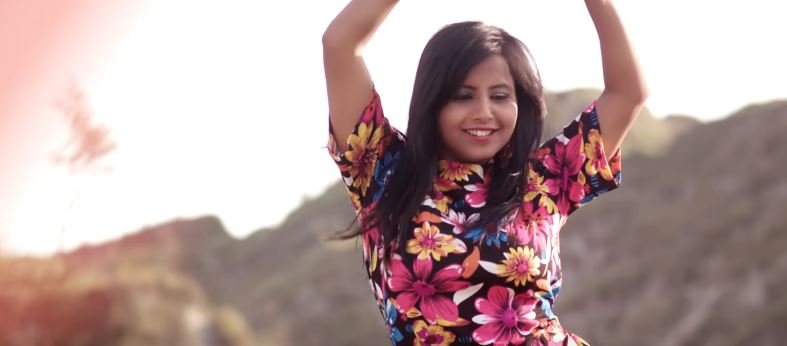 Jhyamma Jhyamma is a new melodious Nepali pop song by Shrinkhala Joshi. Jhyamma Jhyamma is a romantic music video which expalin the beauty of nature. Jhyamma Jhyamma is a Nepali song by Shrinkhala Joshi which is directed by Niyon Lama. The music video was choreographed  by Nitika Chhetri.
The lyrics for this song is written by Narendra Raj Regmi and music for this song was composed by Nanda Krishna Joshi. Jhyamma Jhyamma song is very interesting, delightful and informative too. Jhyamma Jhyamma music video want to show the value of something which are present in our society. The song is based on love and romance with natural things. The music video was presented by Shrinkhala Joshi. When you once listen this song, I am sure you will not forget to like and share with everyone.
The music video is released officially online by HighlightsNepal via Youtube. Hope that you will enjoy this melodious pop song Jhyamma Jhyamma.
Here is the lyrics for Jhyamma Jhyamma:
Afnai sundar prakriti ma
Ramaune ma chori
Jhyamma Jhyamma
Jhyamma Jhyamma
Kunni kasle lagyo
Mero mann chori
Jhyamma Jhyamma
Jhyamma Jhyamma
Phula sari muskuraudai
Kheltheya luka mari
Jhyamma Jhyamma
Jhyamma Jhyamma
K ho yo mann chalbalauna
Aucha mauka mari
Jhyamma Jhyamma
Jhyamma Jhyamma
Aucha mauka mari
Aucha mauka mari
Jhyamma Jhyamma
Jhyamma Jhyamma……

Ranga chadyo jawani ko
Kaukuti nai lagcha
Jhyamma Jhyamma
Jhyamma Jhyamma
Koho la yo mann ko
Raja sapani ma aucha
Jhyamma Jhyamma
Jhyamma Jhyamma
Koho la yo mann ko
Raja sapani ma aucha
Jhyamma Jhyamma
Jhyamma Jhyamma
Perati pabitra huncha
Dui mutu mela
Koho la yo mann ko
Raja sapani ma aucha
Jhyamma Jhyamma
Jhyamma Jhyamma
Chokho maya mahago huncha
Srawan ko bhela
Koho la yo mann ko
Raja sapani ma aucha
Jhyamma Jhyamma
Jhyamma Jhyamma……

Karnali karnali tira
Bheri bheri tira
Jhyamma Jhyamma
Jhyamma Jhyamma
Maya laune mayalu hau
Aaejau merai tira
Jhyamma Jhyamma
Jhyamma Jhyamma
Maya mann mile huncha
Haina kasle lane
Jhyamma Jhyamma
Jhyamma Jhyamma
Lau na jane perati
Jiyan khancha na jane
Jhyamma Jhyamma
Jhyamma Jhyamma
Lau na jane perati
Jiyan khancha na jane
Jhyamma Jhyamma
Jhyamma Jhyamma……

Besh bhusa ma
Singarinchhu lauchhu
Gunu choli
Jhyamma Jhyamma
Jhyamma Jhyamma
Najar launa hajarau chhan
Ko dil mann kholi
Jhyamma Jhyamma
Jhyamma Jhyamma
Najar launa hajarau chhan
Ko dil mann kholi
Jhyamma Jhyamma
Jhyamma Jhyamma
Lauchhu gunu choli
Ko dil mann kholi
Najar launa hajarau chhan
Ko dil mann kholi
Jhyamma Jhyamma
Jhyamma Jhyamma……………