Kaanchi Review and Box office Collection Report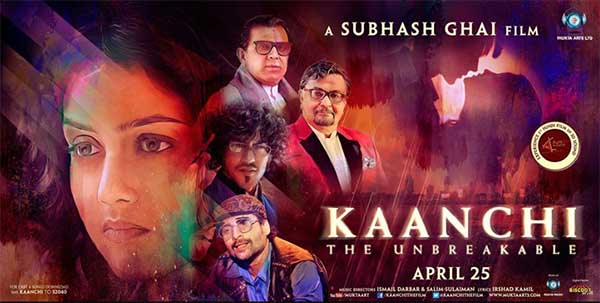 Kaanchi is a story of a small hill town girl who takes up the cudgels for her people in order to save them from the bad guys fighting against them. Or in other words we could also call it as another burden for this new film "Kaanchi", Subhash Ghai's new movie which is told in the similar manner like it used to be in the 80's and is at present, an outdates concept.
The role of Kaanchi has been played by Mishti who is a headstrong girl but also a foul mouth at the same time. The first half of the movie tells the story of an attention seeking beauty who has been wandering directionless in her life, while one sees a total change in her in the second half where she transforms into a woman with revenge on her mind. But you are going to find in the whole 2 hours and 32 minutes that she is basically a rebel without any cause and which is also one out of a pool of problems with the heroine centric movie of Ghai's.
Subhash Ghai has tried to display the perils of this rapid ongoing urbanization as well as people's reaction against the country's corruption and many other which are mentioned or tried to be mentioned in the film. But he fails to avail justice to even one of them. With Ghai being the director, produces, writer as well as the editor of the film, it seems that he forgot the trajectory of the movie's story in this mixture of ideas what never seen to come together in the whole film.
Something something keeps on happening in the first half. Kaanchi is shown in Koshampa village where a corrupt politician wants to sell the land and convert the village into a valley city. Also there is a character named Binda running maybe a commando cam and childhood sweetheart of Kaanchi. There is also a thorn in the love story named Sushant who soon murders Binda and runs away forgetting Kaanchi.
The second half of the movie lies even more far from logic as well as entertainment. We see Kaanchi crossing the river and reaching Mumbai to get to the killers who killed her lover and she is assisted by her cop friend Bagula. Then she disguises herself as a maid in Kakda's house and plans their downfall.
Box Office Collection
Kaanchi was not able to make any kind of attention grabbing impact on the Box office with collecting around 2.5 Crore in Nett. It was an expected outcome as the movie contained the same old ineffective Ghai women empowerment stuff which has been outdates since a couple of decades.
Overall the movie is for those who like non logical stories and are amazed by simple awkward and non realistic stories. The ineffective script as well as not so remarkable acting became another reason for people to forbid other to go and watch the movie.