Kadaghari by Raj K Goswami and Aastha Raut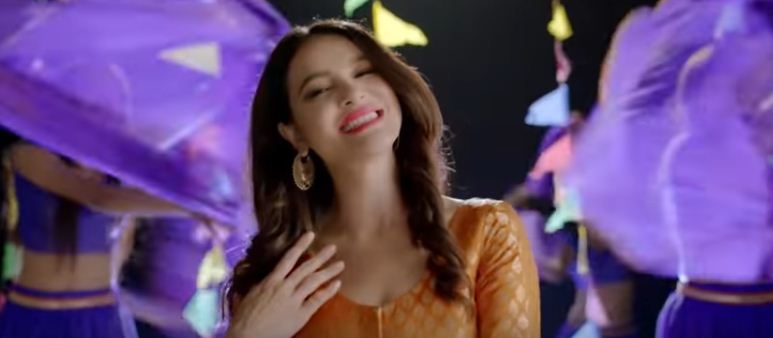 Kadaghari is a Nepali Pop song by Aastha Raut and Raj K Goswami. The music video features Shristi, Ram and Kishor. This music video was cinematograph by Dhiraj Jung Shah and edited by Bharat Regmi. Kadaghari music video is directed by Bhusan Dahal.
The musical composition for this music video was done by Kiran Bhandari. Kadaghari is beautiful dance version from album "Koshis 2" recorded at Thunderstrom Records. The duet stars miss Nepal Shristi along with Ram and Kishor. Her bold looks has made this song erotic and sensational. I assure you guys will love he song and tune repeatedly once after you hear it.
The music video is officially released online by Nepali Touch via YouTube. Hope you will enjoy this beautiful music video "Kadaghari".
Lyrics for Kadaghari by Raj K Goswami and Aastha Raut;
A meri pyari bhayeu ta yaari

Lagan gatho badi  deu na

Nau tale ghar chha

K ko boder chha

Sampati ko pirai chhaina

Yo mann wari chha

Tyo mann pari chha

Bichai ma aiselu kadaghari chha

Yo mann wari chha

Tyo mann pari chha

Bichai ma aiselu kadaghari chha

 

Nau tale ghar chha

Tehi ta dar chha

Sampati ko pira hoina

Aakash muni basera  pani

Yo juni katine hoina

Yo mann bhaari chha

Dodhar chha

Bichai ma aiselu kadaghari chha

Yo mann bhaari chha

Dodhar chha

Bichai ma aiselu kadaghari chha

 

Deurali ma baseko

Maya pirati gaseko

Sun ko authi diye thiye

Sune timi le becheko

 

Kun authi diyeu  sun ko

Sun hoina tyo  pittal thyo

Chhaina maile becheko

Mann timro po choreko

Yo mann bhaari chha

Dodhar chha

Bichai ma aiselu kadaghari chha

Yo mann bhaair chha

Dodhar chha bichai ma aiselu kadaghari chha

 

A meri pyari bhayeu ta yaari

Lagan gatho badi deu na

Nau tale ghar chha

K ko boder chha

Sampati ko pirai chhaina

Yo mann wari chha

Tyo man pari chha

Bichai ma kadaghari chha

Tyo mann wari chha

Yo mann pari chha

Bichai ma aiselu kadaghari chha

 

Yo mann bhaari chha

Dodhar chha

Bichai ma aiselu kadaghari chha

 

Tyo mann wari chha

Yo mann pari chha

Bichai ma aiselu kadaghari chha