Ke Ma Timro Haina Ra – Nepali movie Kohinoor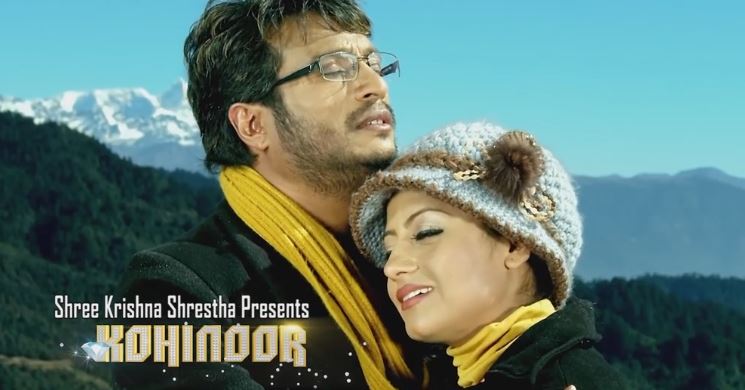 Ke Ma Timro Haina ra is a love song from Nepali movie Kohinoor which is the last movie by Nepali actor Shree Krishna Shrestha. He died just before the release date of his movie Kohinoor. Due to the love of his audience, the movie was one of the blockbuster movie of Nepali movie industry breaking the box office record.
While talking about this song Ke ma timro Haina ra, this is one of the popular Nepali movie song with already 2.6 Million views on YouTube. The song is presented by Abhijeet and Sadhana Sargam. The music video features late Shree Krishna Shrestha and Sweta Khadka (Shrestha).
Here is the lyrics of Ke ma timro haina ra:
Hey ……
Jati ma garchhu
aafulai maya

Jati ma garchhu
aafulai maya
tyo bhanda dherai
timi malai garchhau

Tyo bhanda dherai
timi malai garchhau

Ekatira duniya sara
arko tira timilai rakhe
malai timi man parchheu thaha chhaina ra
Ke ma timro haina ra
Ke ma timro haina ra
Kohinoor…
Ke ma timro haina ra

Rokidinchhu aadhilai
farkai dinchu khola
timisangai bhaye mero
nahune ke po hola
ho ho ho…
Rokidinchhu aadhilai
farkai dinchu khola
timisangai bhaye mero
nahune ke po hola

Malai timro piratima
unina man lagchha
Sadhai sadhai timi bhitrai
jhunina man lagchha
thaha chhaina ra..
Ke ma timro haina ra
Ke ma timro haina ra
e hajur…
Ke ma timro haina ra..

Ke ma timro haina ra
Kohinoor

E hajur
Ke ma timro haina ra…
Save