Khulla Aakash Ma By Sanjeev Singh Ft. Koshish Chhetri and Benisha Hamal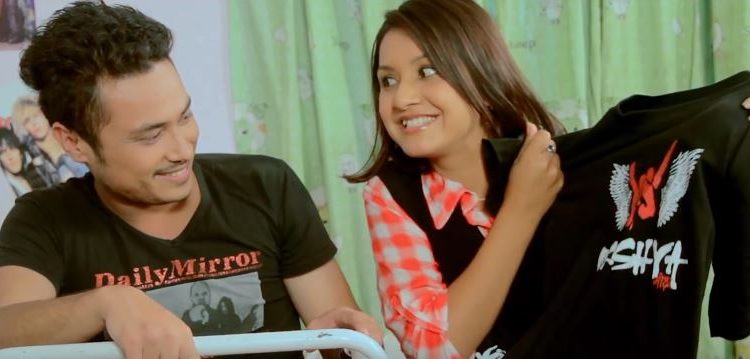 Khulla Aakash Ma is a new pop song by Sanjeev Singh. This song, Khulla Aakash Ma was from Movie Mokshya. This song and whole film was directed by Prabeen Shrestha and edited by Gambir Rajkarnikar. The cinematographer are Hari Humagain, Pratap Singh and Rabin Shrestha.
The lyrics for the song was written by Sanjeev Singh and Navakranti and music was also composed by Sanjeev Singh. This song and the whole movie was produced by Sunil Manandhar. The music video is full of entertainment and enjoy. The vocal in this song made this song awesome which is given by singer Sanjeev Singh. He is one of the well known singer in the music industry. This song was presented by Mokshya Production. When you once listen this song, I am sure you will keep tuning it.
The music video released officially online by mokshyathefilm via Youtube. Hope that you will enjoy this melodious pop song Khulla Aakash Ma.
Here is the lyrics for the song:
Khulla aakashmaa
Panchhi haru ude jhai
Udna man laagchha
Khulla aakashmaa
Khulla aakashmaa
Khulla aakashmaa

Bandha ko gund chhodera
Man hawa sangai
Bahana khojdaichha
Man hawa sangai
Bahana khojdaichha

Kshitiz paariko ghamaa
Kina yo man dubna khojdaichha
Kina yo man dubna khojdaichha
Sunyata saathi bho aaja
Hridaya timi mero
Kahi laga

Khulla aakashmaa
Panchhi haru ude jhai
Udna man laagchha
Khulla aakashmaa
Khulla aakashmaa
Khulla aakashmaa

Aakash ko joon jhaarera
Man adherimaa baato khojdaichha
Man adherimaa baato khojdaichha
Mohako jaal todera
Tan eklai eklai ramna khojdaichha
Tan eklai eklai ramna khojdaichha
Pakheta haalideu aaja
Mutu timi mero
Kahi bhaaga