Kuku Mathur Ki Jhand Ho Gayi Pre Release Review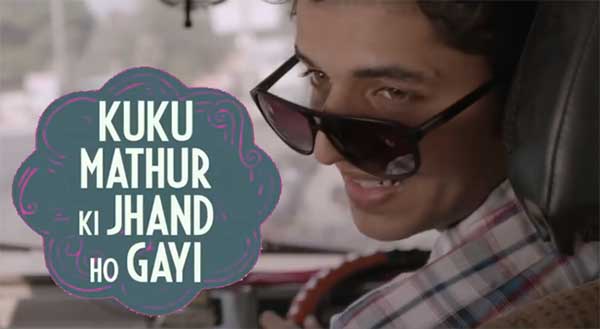 With huge popularity of Indian films it has provoked directors to get going with new releases. Indian film industry holds a track record of releasing 40 successful movies each year. In recent times the films are more likely based on songs than focusing on story. Success of film at box office remarks the role played by the stars, story and songs involved in it.
Kuku Mathur Ki Jhand Ho Gayi is based on comedy ethics. The movie highlights on a particular character named Kuku Mathur. Kuku was a local boy with lot of college friends he used to spend his time in streets. After completing its graduation with unhealthy marks he was deprived of having job, one day his friends suggested to do business. Kuku declined the thought at first then with pre decided mind he opened a shop named Kuku's Kwalti Khana. The movie gained momentum with kuku falling in love with a girl and with this the life of kuku takes a new turn.
Exclusive Trailer of Kuku Mathur Ki Jhand Ho Gai

The movie is categorize to have a drama in the first half and a romance mode in the second half with continuous series of comedy events throughout the movie. Its pre release trailer binds some of the funny shots acted in the movie. The movie will definitely be the most liked movie of this year. The quirky movie has its comedy set in Delhi and at present the movie is at under production stage.
The movie takes a risk to go with fresh faces with new director in his debut film Kuku Mathur Ki Jhand Ho Gayi. The movie has gained an overwhelmed status to the public interest. With significant effort from all the cast and crew members the movie bets to achieve high ratings than any other movies released this year.
Movie under the banner Balaji Motion Pictures and Getaway Films is likely to get away with pompous ethic reviews. Under the direction of Aman Sachdeva the movie includes some of the dialogues in local language like jhandu, kuttae, etc.
The movie is likely to get released on the scheduled date on 30th May 2014.
Cast and Crew for "Kuku Mathur Ki Jhand Ho Gayi"
Banner:-
Balaji Motion Pictures
Getaway Films
Genre:-
Star Cast:-
Siddharth Gupta
Simran Kaur Mundi
Pallavi Batra
Brijendra Kala
 Siddharth Bhardwaj
Ashish Juneja
Director:-
Writer:-
Ekta Kapoor
Lakshay Kumar
Bejoy Nambiar
Producer:-
Shobha Kapoor
Ekta Kapoor
Bejoy Nambiar
Music director:-
Taran Bajaj
Jitendra Rai
Bakul Matiyani
Release Date:-
Shooting Location (City & Country):-
Music Company:-
The movie is expected to boom as a surprise for viewers and is likely to suit to all age groups. In general the movie fits best for youngsters in particular and hopes to get good rating to its release.