Lacha Lacha Lachkinchha From Movie BLACK DIARY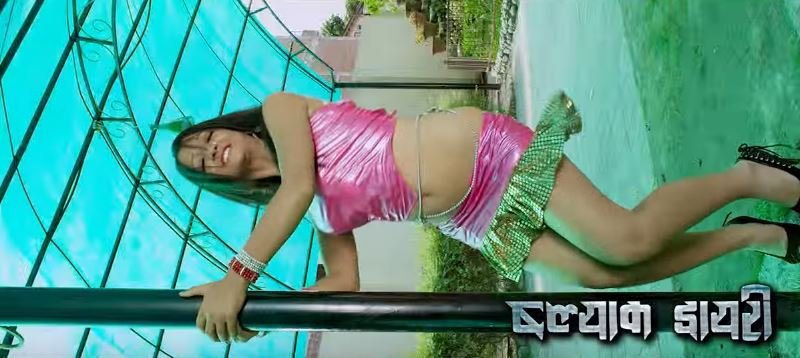 Lacha Lacha Lachkinchha is a New Nepali Romantic Item song from the  Movie "BLACK DIARY". The music video features actor and actress are Ramesh Singh Thakuri, Puja Bhatta and  Bhuwan KC. Lacha Lacha Lachkinchha is a Nepali movie song by Roshani Adhikari which is directed by Sujan Ghimire. Lacha Lacha Lachkinchha was choreographed by Raju Shah and music video was edited by Mitra and Mrigendra.
The music of this song was composed by Raman Gayak and Lyrics of this song was written by Raman Gayak himself. The music video is featuring by versatile actress Puja Bhatta. Puja Bhatta is one of the hottest and sexy actress who has presented this video as a bar girls. Lacha Lacha Lachkinchha music video was Post Production by Studio Magix, Omniphonics Studio. When you once listen this song, I am sure you will keep repeating it.
The music video is released officially online by HighlightsNepal via Youtube. Hope that you will enjoy this Romantic Item song Lacha Lacha Lachkinchha.

Here is the Lyrics for this song:
Lacha Lacha Lachkinchha
Sara sara sara sarkincha
Lacha Lacha Lachkinchha
Baruli kammar
Sara sara sarkincha
Nagbeli chal
Gurasa otha baby
Item chau
Sympan ko bottle
Jhai ramro chau
Bhanchan sabai
Duniya hera
Ma pani ayae hera
Timilai jyanai sumpiyera
Lacha Lacha Lachkinchha
Baruli kammar
Sara sara sarkincha
Nagbeli chal…

Khoe cha banchan
Aakha ma
Khoe cha banchan
Mutu ma
Khoe cha banchan
Aakha ma
Khoe cha banchan
Mutu ma
Jali saka mero
Maya ko rupa ma
Aghi pachi pacyayera
Hinda na gara bho
Kasko maya sacho ho
Chinnai garo bho
Gurasa otha baby
Item chau
Sympan ko bottle
Jhai ramro chau
Bhanchan sabai
Duniya hera
Ma pani ayae hera
Timilai jyanai sumpiyera
Lacha Lacha Lachkinchha
Baruli kammar
Sara sara sarkincha
Nagbeli chal……