Love you Baba honors all the supporters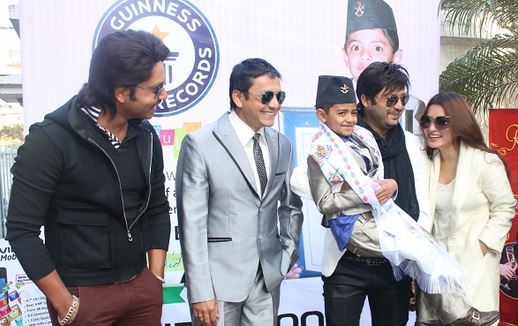 Love you Baba, a movie which was directed by 8 years old boy Saugat Bista and made an entry in Guinness book of world records as movie directed by the youngest director, honoured all the artists, technicians and reporters who helped them through this journey.
8 years old Saugat Bista handed certificate of appreciation to all the supporters during an event held at Kumari hall in Kathmandu on Wednesday. He as well thanked all of them for their assistance and also expressed his deep gratitude towards his father Gajit Bista and mother Samjhana Pokhrel for their guidance and backing.
Saugat Bista was able to create a record in Guinness book world records by directing movie at the very young age of 7 years and 340 days. Love you baba is going to be released again. Gajit Bista, Sangam Bista, Nishma Ghimire, Asishma Karki, Basanta Bhatta, Nirmal Sharma etc. are seen acting in the movie. Movie shows the struggles faced by a father while growing up the child after the child is abandoned by mother.