Mahasush From Nepali Movie BLIND ROCKS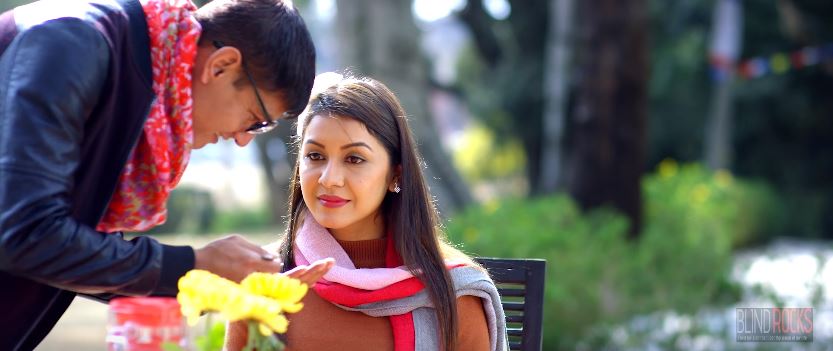 Mahasush is a new heart touching song from Nepali movie "BLIND ROCKS". This music video of the song features talented artists Benisha Hamal and Arpan Thapa. The vocal for this song was given by Tara Prakash Limbu and Deepa Lama which is directed by Milan Chams and was edited by Arjun G.C. This music video beautifully filmed by Nawaraj Krishna Thapa.
The music was composed by Hari Lamsal and lyrics was written by Naresh Bhattarai. The movie was based on Shristi Shrestha life style who was blind from the age of 12. The main theme of this movie is even we lost our sight but we got the vision of our life. From her life style, we can conclude that physical disable people can do better that normal people. In this movie, Benisha Hamal has played the role of Shristi Shrestha. The music video was choreographed by Kabira Gahatraj. When you once listen this song, I am sure you will keep repeating it.
The music video is released officially online by HighlightsNepal via Youtube. Hope that you will enjoy this melodious aadhunik movie song Mahasush.
Here is the lyrics for Mahasush:
Mahasush gartheya ma
Ali ali timrai bhar
Partheya ma ali ali

Mahasush gartheya ma
Ali ali timrai bhar
Partheya ma ali ali
Jhanai badyo biswas yo
Maya timi tirai
Jhanai badyo biswas yo
Maya timi tirai…….

Timilai choyera maela
Sansar dhekhana
Sakne bhaye
Timilai choyera maela
Agi badna sakne bhaye
Kasto yo ranga ho
Maya ko satha ko
Kina hariyali chhan
Andakar ma pani
Mahasush gartheya ma
Ali ali timrai bhar
Partheya ma ali ali…………