A Malai Chhodena by Pratikchya Gurung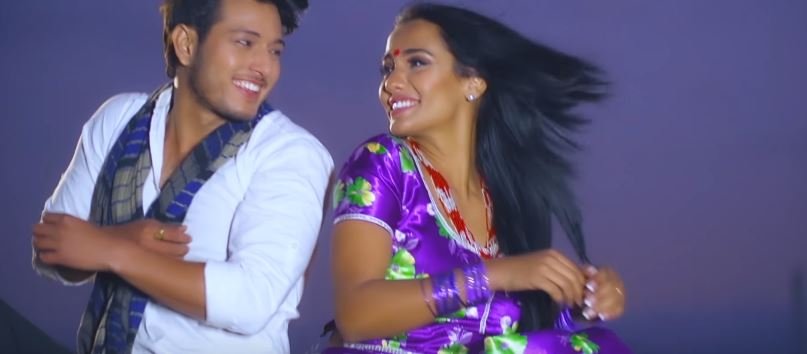 A Malai Chhodena is a new lok pop song by Pratikchya Gurung. The music video features Priyanka Karki and Puspal. A Malai Chhodena is a Nepali song which directed by Devendra Pandey. The music video was cinematographed by Hari Humagain and edited by Nishan Ghimire.
The lyrics for the song was written by Shiva Hamal and music for the song was composed by Mohan Khadka. This music video features gorgeous well known actress Priyanka Karki and handsome hot actor Puspal. Artists Priyanka Karki and Puspal both of them have performed in such a realistic way that music video will clearly represents the story that songs wants to deliver. Priyanka Karki has done numerous music video mostly lok pop as well as aadhunik songs. The music video was post production by Sampurna Films. When you once listen this song, I am sure you will keep tuning it.
The music video is released officially online by HighlightsNepal via Youtube. Hope that you will enjoy this melodious lok pop A Malai Chhodena.
Here is the lyrics for A Malai Chhodena:
A Malai Chhodena
Timro chhaya la
A Malai Chhodena ho
Timro chhayala
A Malai Chhodena ho
Timro chhaya la
Aafai la sun bhanayau
Aafai la jun bhanayau
Aafai la sun bhanayau
Aafai la jun bhanayau
Aafai kalo badal bane
Dhakayau maya la
A Malai Chhodena ho
Timro chhaya la
A Malai Chhodena ho
Timro chhaya la………

Din raata bhok xaena
Harda kunai rog xaena

Din raata bhok xaena
Harda kunai rog xaena
Nirmohi ko pharkhaema
Na kurako chwok chayena
Yasato mantra kaha bata
Janau Maya la
Ea falam chumbak jhaai
Taanayau maya la
Ea falam chumbak jhaai
Taanayau maya la……….

Manda muskan hara ra
Tuna muna garayara

Manda muskan hara ra
Tuna muna garayara
Ragat bagna mutu bhitra
Timi la maya bharera
Najarko ma redaya bhitra
Hanayau maya la
Ea falam chumbak jhaai
Taanayau maya la
Ea falam chumbak jhaai
Taanayau maya la
Aafai la sun bhanayau
Aafai la jun bhanayau
Aafai la sun bhanayau
Aafai la jun bhanayau
Aafai kalo badal bane
Dhakayau maya la
A Malai Chhodena ho
Timro chhaya la
A Malai Chhodena ho
Timro chhaya la……………