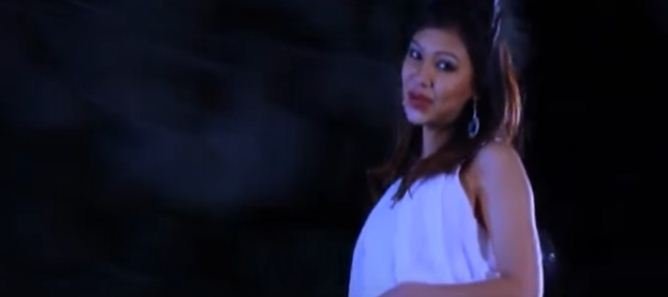 Malai Pugena is a Nepali Pop song by Aastha B. the music video features Priyanka, Pramila and Alina. This music video was cinematograph by Bidur Pandey and edited by Tekendra Shah. Prasanna Poudyal has directed this beautiful song.
Malai Pugena is a song written by Ananda Adhikari. The instrumental composition of this music was done by Shikhar Santosh. This is a song with dance version that will fully entertain you. The song enhances the charm, excitement and dynamism during the youth. This is the only period when people have guts to conquer anything. This phase in life is much exciting. Here in this music video you will hear all above mentioned sorts of that certain stage. I assure this song will so entertaining that makes you shake your body. You will repeat the song once after you hear it.
The music video is officially released online by Nepali Touch via YouTube. Hope you will have fun tuning this song.
Lyrics for Malai Pugena;
Naram yo nauni jastai

Garam yo agni jastai

 Chha tan yo indreni jhai

Chamkilo jun jastai

Malai pugena pugena yo baisa le

Malai pugena pugena yo baisa le

Malai pugena pugena yo baisa le

Malai pugena pugena yo baisa le

Khai kina ho kina

Khai kina ho kina

 

Dharti ma chhaina addaina paau

Uddai chha mann yo mathi

Badal lai chhedi tara lai bhati

Jun sangai haschhu sathi

Dharti ma chhaina addaina paau

 Uddai chha mann yo mathi

Badal lai chhedi tara lai bheti

Jun sangai haschhu sathi

Sagar ma dube pani

Pyas ajhai  chha ustai

Moti nai bhate pani

Sapana adhuro ustai

Malai pugena pugena yo baisa le

Malai  pugena pugena yo baisa le

Malai pugena pugena yo baisa le

Malai pugena pugena yo baisa le

Khai kina ho kina

Khai kina ho kina

 

Har soch naulo har chij  naulo

Har din lagchha naulo

Har dhun naulo har sun naulo

Umanga naulo naulo

Har soch naulo har chij naulo

Har din lagchha naulo

Har dhun naulo har sun naulo

Umanga naulo naulo

Phool dhali fakre pani

Rahar ajhai chha  ustai

Pari nai bane pani

Shringaar adhuro ustai

Malai pugena pugena yo baisa le

Malai pugena pugena yo baisa le

Malai pugena pugena yo baisa le

Malai pugena pugena yo baisa le

Malai pugena pugena yo baisa le

Malai pugena pugena yo baisa le

Malai pugena pugena yo baisa le

Malai pugena pugena yo baisa le