Maya Hideko Bato by Mohan Khadka and Sandhya Budha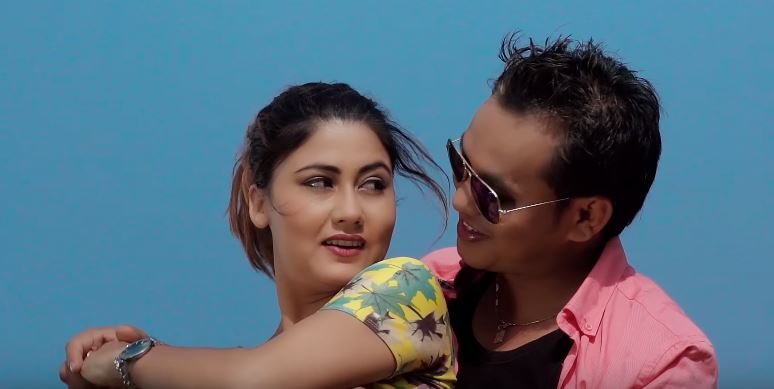 Maya Hideko Bato is a new Nepali lok pop song by Mohan Khadka and Sandhya Budha. The music video features Sampada Baniya, Bimal Adhikari and Bishnu. Maya Hideko Bato is a Nepali song about love and feelings towards love which is directed by Kapil Lama. This music video was edited by Amar Shakya and was cinematographed by Rajesh Ghimire.
The music as well as lyrics for this song was written by Mohan Khadka. The music video features beautiful and versatile model Sampada Baniya. She has appeared in numerous music videos, television commercials and print ads. She is one of the established model of Nepali music video industry. In Maya Hideko Bato music video, we can see how they are fallen in love with unknown person. The romantic love between Sampada Baniya and Bimal Adhikari has shown in this music video. If you once watched this music video then believe me, you will feel more love towards your love.
The music video is released officially online by Music Nepal via Youtube. Hope that you will enjoy this Melodious lok pop song Maya Hideko Bato.
Here is the lyrics for Maya Hideko Bato:
Maya Hideko Bato
Maghmag Basaune
Maya Hideko Bato
Maghmag Basaune
Amilo pani chaena maya
Guliyo ni haina
Amilo pani chaena maya
Guliyo ni haina
Kina hola mero mukha ma
Tesai rasaune
Maya Hideko Bato
Maghmag Basaune
Maya Hideko Bato
Maghmag Basaune……..

Bau lai ni bhule maela
Aama lai ni bhule

Bau lai ni bhule maela
Aama lai ni bhule
Sabai kura birsiyera
Timrai pachi dhule
Kina hunchau para
Auna ali ora
Kina hunchau para
Auna ali ora
Bhaneki chu meri sanu
Mai hu bhagaune
Ae timilai dhekhi chi
Mata Tesai agaune
Ae timilai dhekhi chi
Mata Tesai agaune………

Raat ma nindra chaena mero
Din ko bhoka harayo

Raat ma nindra chaena mero
Din ko bhoka harayo
Yeti maya garda ni
Maya kina darayo
Malae afnai banau
Timi merai bana
Malae afnai banau
Timi merai bana
Mai hu timro dil ko
Chabi lagaune
Ae timilai dhekhi chi
Mata Tesai agaune
Ae timilai dhekhi chi
Mata Tesai agaune………

Pachi pachi lai rahancha
Yo chhetri ko choro

Pachi pachi lai rahancha
Yo chhetri ko choro
Kti dhekhanai na hune
Kasto rayecha moro
Jiskaudai auchau merai
Pachi lauchau
Jiskaudai auchau merai
Pachi lauchau
Kina hola timro mukha
Tesai rasaune
Ae ma ta hineko bato
Tesai rasauna
Ae ma ta hineko bato
Tesai rasauna

Amilo pani chaena maya
Guliyo ni haina
Kina hola mero mukha ma
Tesai rasaune
Ae ma ta hineko bato
Tesai rasauna
Ae ma ta hineko bato
Tesai rasauna
Maya Hideko Bato
Maghmag Basaune
Ae ma ta hineko bato
Tesai rasauna
Maya Hideko Bato
Maghmag Basaune………………