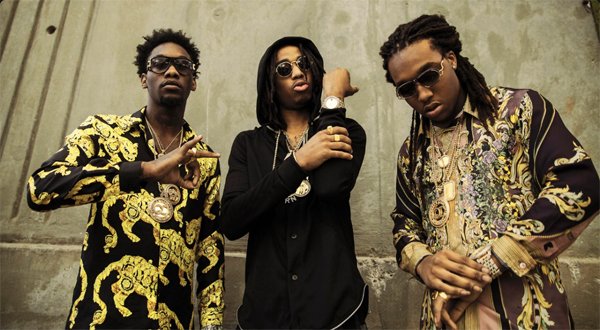 Migos is a hip hop trio based in Atlant, Georgia. In the group, it consists of Quavo (born Quavious Marshall), Takeoff (born Kirshnik Ball) and Offset (born Kiari Cephus). The group Migos is best known for their popular singles including "Versace", "Fight Night", "One Time" and "Look At My Dab". The group is managed by Coach K, the former, the former manager of Gucci Mane and Young Jeezy. The overall net worth of this group Migos is estimated to be $4.3 million. Their rise to fame has been steady and swift and they continued to make music with famous faces like Busta Rhymes, Wiz Khalifa and Justin Bieber.
The group members came together in 2009 when they discovered their joint love and respect for groups such as Outkast and The Hot Boys. First they named their group as Polo Club, but later on they changed their name to Migos in 2010. In the group Quavo stands as the group leader and Takeoff and offset follows him from behind. The group started gaining popularity in the clubs. With increasing their popularity, they decided to release an album themselves called "Juug Season" in 2011. The success of their first album was followed by releasing their second album titled "No Label", which featured popular song amongst their peers called Bando. From these two albums, they earned around $500,000, helping to boom their net worth.
In 2013, the rap trio released their single "Versace" which was produced by Zaytoven. The music went viral peaking at number 99 on US Billboard Hot 100. The video has had 15 million views on YouTube to date. Their single also inspired a fellow rapper Drake, to join the official remix on this song, would later perform the song at 2013 iHeartRadio Music Festival. In June 13, they released their mix tape Y.R.N. (Young Rich Niggas), to critical acclaim. They received 8 out of 10 stars from Brandon Soderberg of Spin. The group was featured in XXL's section "Show and Prove" and also performed at rap station Hot 107.9's Birthday Bash. Hence 2013, started the growth of their impressive Migos net worth and it only increased. In 2014, they signed to Atlantic Records, releasing mix tape titled No Label 2, which also gained a huge popularity and was downloaded more than 100,000 times in only a week. Their single "Fight Night" was featured on XXL's List of 25 Best Songs of 2014 and reached on number 69 on the Billboard's Hot 100, making the group's most successful song so far. In January 2016, Migos released their latest album called "YRN 2", tipped to be a major success. The group perform three to four a week earning $400,000 per show. The overall net worth of Migos has went to $1.5 million in 2011 to $4.3 million in 2016.
Things to know about Migos
Origin: Gwinnett County, Georgia, USA
Migos in Facebook: 2.2M Fans in Facebook
Migos in Twitter: 1.7M Followers in Twitter
Migos in Instagram: 5.3M Followers in Instagram
Migos Net Worth: $4 Million