Mountain High (Audio) by Bipul Chettri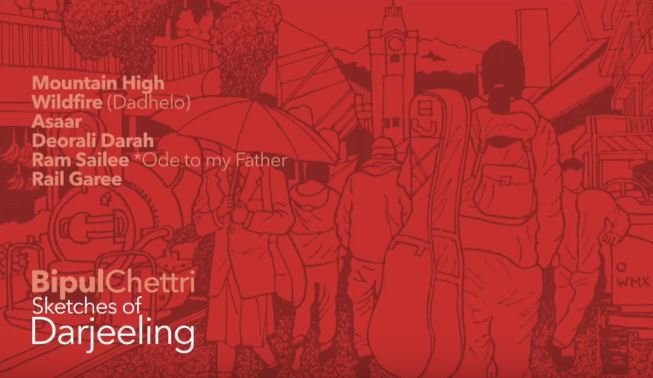 Mountain High is a Nepali lok pop song by Bipul Chettri from album "Sketches of Darjeeling". Bipul Chettri is the vocalist and guitarist of the song. It features Rahul Rai on the Bass, Upendra Raj Baraily on Drums/Percussion, Anindo Bose on Keys and Lokesh Anand on the Shehnai.
The song Mountain High is written, composed and arranged by Bipul Chettri. The innovative, energetic and multidimensional young singer Bipul Chettri has contributed his voice in lots of Nepali Songs with Lok pop genre. Bipul Chettri is originally from India(Darjeeling). Album Cover Layout & Design is contributed by Manohar Rai. Recording, Mixing & Mastering is contributed by Anindo Bose for the very song. Give a listen to this song right away, I am sure you will keep repeating it.
The audio song is released officially online by Bipul Chettri via YouTube. Hope that you will enjoy this melodious lok pop song Mountain High.

Here is the lyrics for Mountain High:
Hey…
Akash lai chhune sansar lai dhakne
Bishal timro daal
Hey…
Udeko baadal le chhopeko timro muhar
Lajauney timro chaal
Hajaaron chha timro roop
Mann nai na metine jati here pani
Rakhe chhau angaalo ma liyera saatha mai timile
Hamilai juni juni
Home home calling home
Home home calling home……

Hey…
Liyera k jaanu chha sabai moha maya ma
Yaha aljhey chha
Chahe ne hamilai kati ho
Sangaisangai mili jiuna lekheko hamro chha
Na bujney ley na bujey pachhi
Tyo mero bhandai bhaye sabai barbaad
Yaada audachha timro yaada
Abo ta yestai chha mero haala
Mai maya bhandai aundaichha timro yaad
Home home calling home
(Om maane padme hum)
Home home calling home
(Om maane padme hum)
Home oho home calling home
(Om maane padmehum)………