Nepali Movie How Funny trailer released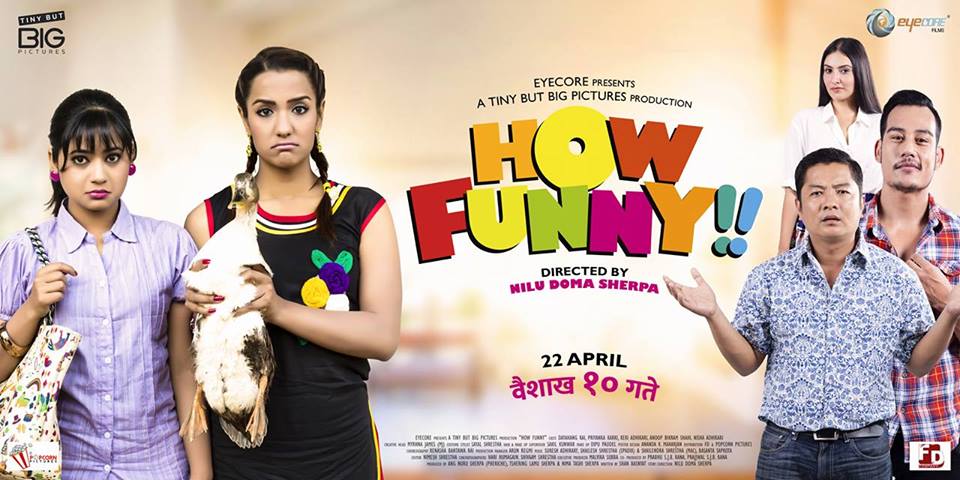 The official trailer of Ex Miss Nepal Malvika Subba's Nepali movie 'How Funny' has recently released. The movie stars Dayahang Rai, Anupbikram Shahi, Keki Adhikari, Priyanka Karki, Nisha Adhikari etc. Directed by Nilu Dolma Sharma the movie is released under the banner of Tiny But Big Pictures. With the story by Nilu Dolma Sherpa the movie contains the music by Shailendra Shrestha and cinematography by Hari Humagain. Nepali movie How Funny is produced by Aang Naru Sherpa, Lamu Sherpa and Nima Tasi Sherpa.
The movie begins with the slow motion DSP Tejbahadur who is going to present a speech but lacks the quality due to his slow motion on giving speech. Then comes Heera Samraagi who is missing from some days as she is the daughter of a rich man, her father threatens DSP Tejbahadur to find his daughter on any cost. DSP Tejbahadur then finds two girls Ramita and Pushpa to spy on the gang who kidnapped Heera. The trailer makes us feel How Funny is a complete comedy movie as we got to see the comedian Sandeep Chhetri too at the end of the trailer. To know if DSP Tejbahadur along with his two spy girls succeed to find out Heera or not you have to wait till the release date of the movie.
The official trailer of How Funny is released by OSR Digital as the movie is scheduled to release on 10th Baisakh 2073 (22 April).