Nepali Movie Kaifiyat Trailer released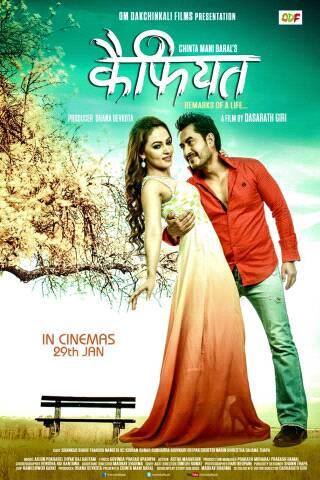 The official trailer of Nepali movie 'Kaifiyat' has recently released on a press release organized by the movie crew. Announcing the release date of the movie as 15th Magh the movie is said to be a action and love story movie.
According to the debut director Dasharath Giri the movie is a complete entertainment package that will be able to entertain the audiences. Starting Nandita KC, Nabin Shrestha, CP Poudel, Shankar Shahi Thakuri, Kishan Sunuwar, Sajan Thapa in the lead roles the movie is produced under the banner of Om Dakshinkali Films.
Nepali movie Kaifiyat is the presentation of Chintamadi Baral which is produced by Dhana Devkota. Arjun Pokharel has composed the music for the movie in with the story by Madhav Sharma.
Another Nepali movie Pasupatiprasad is also scheduled to release on the same date.
The official trailer of the movie 'Kaifiyat' is released online by Highlights Entertainment. You can enjoy watching the trailer of the movie Kaifiyat although you need to wait for the full movie to release on 15th Magh on the theaters nearby.