Paglu Palgu from Movie HEROZ Ft. Karishma Manandhar and Sanjog Rana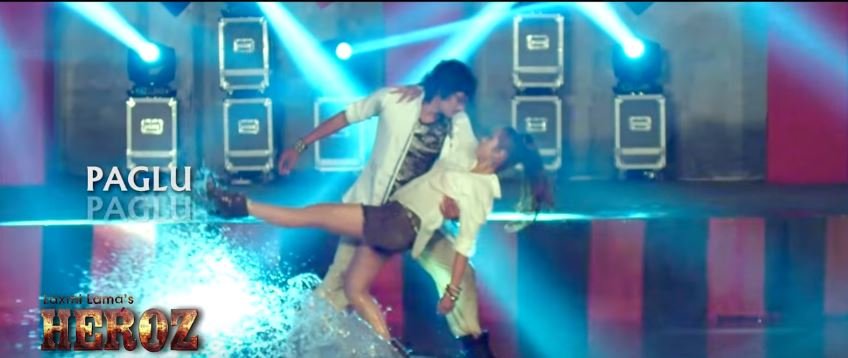 Paglu palgu is a New Nepali Aadhunik Hot pop song from the Nepali Movie "HEROZ". The music video features actor and actress are Karishma Manandhar and Sanjog Rana. Paglu palgu is a Nepali movie hot song which is directed by N.B. Maharjan. Paglu palgu music video was edited by Tara Thapa Kimve and music video was cinematographed by Shiva Dhakal and Ram Sharan Upreti.
The music as well as lyrics of this song was composed by Sanjog Rana and Shankar Adhikari. The music video is featuring by versatile actress Karishma Manandhar. This movie was Debuted by actress Karishma Manandhar who is one of the hottest and sexy actress of Nepali Filmy Industry. When you will listen this song, I am sure you will keep listen again and again. "HEROZ" is all about the romantic dramatic story movie which was choreographed by Kamal Rai, Kabi Raj and Ramji Lamichhane.
The music video is released officially online by HighlightsNepal Pvt Ltd via Youtube. Hope that you will enjoy this hot Song Paglu palgu.

Here is the lyrics for the song:
Puppy deu na
Puppy lau na
Dil Diwana
For you you
Puppy deu na
Puppy lau na
Dil Diwana
For you you
Yo prem ko
Nasha kasto
Na pai matai lagyo
Dilai ma bajyo
Dilai ma bajyo
Ghung ru ru ru
Hey..
Paglu palgu
Oh my palgu
Paglu palgu
Oh my palgu
Hey..
Paglu palgu
Oh my palgu
Paglu palgu
Oh my palgu…

Timro ek isharamai
Fasi gayo mann
Pare ma timrai bhar ma
Dina raat timi sagai
Bolu bhancha mann
Miss garchhu harpal ma
Hey..
Timro ek isharamai
Fasi gayo mann
Pare ma timrai bhar ma
Dina raat timi sagai
Bolu bhancha mann
Miss garchhu harpal ma
Yo prem ko Nasha kasto
Na pai matai lagyo
Dilai ma bajyo
Dilai ma bajyo
Ghung ru ru ru
Hey..
Paglu palgu
Oh my palgu
Paglu palgu
Oh my palgu
Hey..
Paglu palgu
Oh my palgu
Paglu palgu
Oh my palgu…

Timi bata tadha huda
Saro katna din
Na jaidau malae chodi
TImi mero samu huda
Badlidinchha sin
Sad pani happy bani
Timi bata tadha huda
Saro katna din
Na jaidau malae chodi
TImi mero samu huda
Badlidinchha sin
Sad pani happy bani
Yo prem ko Nasha kasto
Na pai matai lagyo
Dilai ma bajyo
Dilai ma bajyo
Ghung ru ru ru
Hey..
Paglu palgu
Oh my palgu
Paglu palgu
Oh my palgu
Hey..
Paglu palgu
Oh my palgu
Paglu palgu
Oh my palgu……