Pahilo Bhet by Bhagendra Bishwokarma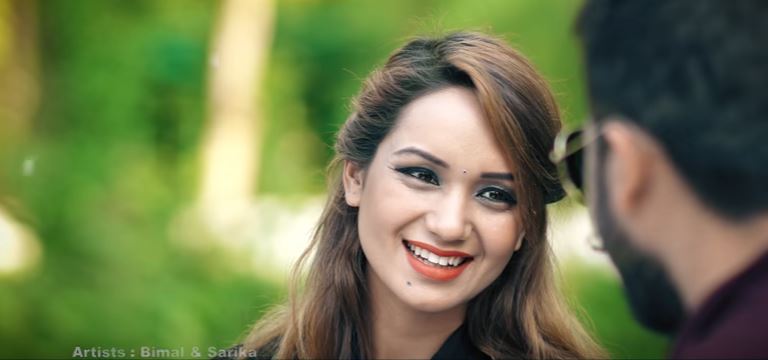 Pahilo Bhet is a new romantic modern song by Bhagendra Bishwokarma. The music video features Sarika Kc and Bimal Adhikari. Pahilo Bhet is a modern song that represents power of smile. This music video is directed by Kapil Lama. The music video was cinematographed by Ajay Regmi and was edited by Sujan Shahi.
The lyrics for the song was written by Maheshwor Kharel and music was composed by Khem Thapa. This music video features Sarika Kc. She is beautiful well known model with amazing body structure. She has done numerous modern as well as lok dohori songs and most of them are related to romantic love story. The vocal for this song was given by talented singer Bhagendra Bishwokarma. In Pahilo Bhet, he has shown love at first sight between Sarika Kc and Bimal Adhikari and the power of smile. When you once listen this song, I am sure you will keep tuning it.
The music video is released officially online by Music Nepal via Youtube. Hope that you will enjoy this melodious modern song Pahilo Bhet.

Here is the lyrics for  Pahilo Bhet:
Pahilo Bhet mai
Timi muskuraye deyau

Pahilo Bhet mai
Timi muskuraye deyau
Ali kati otha thoki
Ali kati otha thoki
Lajayedau Pahilo Bhet mai
Timi muskuraye deyau…..

Purnima ko juna hau
Ke juna sari udadaediyau

Purnima ko juna hau
Ke juna sari udadaediyau
Shawan ko jhari hau ke
Shawan ko jhari hau ke
Badal sangai susayediyau
Jadhu tuna nai garau ke
Ya ta sorga bata timi
Jharayau ke pahilo
Bhet mai timi muskuraye deyau….

Sapta ranghi phoola hau ke
Saatai ranga bharedeyau

Sapta ranghi phoola hau ke
Saatai ranga bharedeyau
phool lai dina pani hau ke
phool lai dina pani hau ke
Prem ko beu charedeyau
Dhudhuki mai bas garay ke
Ya ta bhagya ma nai
Timi parayau ke
Pahilo Bhet mai
Timi muskuraye deyau

Pahilo Bhet mai
Timi muskuraye deyau
Ali kati otha thoki
Ali kati otha thoki
Lajayedau Pahilo Bhet mai
Timi muskuraye deyau…………