Phantom Review and Box Office Collections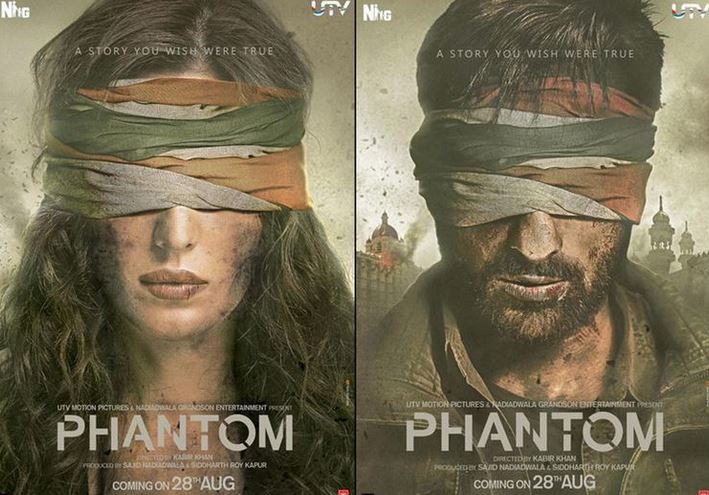 The much awaited controversial Bollywood spy thriller called "Phantom", starring Saif Ali Khan and Katrina Kaif, finally hit the silver screens on 28th August, 2015. The movie received a great deal of pre-release publicity on the account of being banned in Pakistan, thanks to the court case filed by Hafeez Saeed. "Phantom" also stars Mohammad Zeeshan Ayyub, Sabyasachi Chakraborty, Mir Sarwar, Qazi Touqeer and Rajesh Tailang. The film is directed by Kabir Khan, who has yet again walked into the familiar territory of Indo-Pak relations after the success of "Ek Tha Tiger" and "Bajrangi Bhaijaan", but the story is nor same this time around.
The Plot
"Phantom" is based on a book called Mumbai Avengers, which covers the post 26/11 Mumbai terror attacks, which claimed hundreds of lives and created a black mark on the city forever. Saif Ali Khan plays Daniyal Khan, a disgraced army officer who turned his back on his team in the battlefield and was court martialed. He is now chosen by Research and Analysis Wing RAW to avenge the terror attacks of Mumbai and bring the perpetrators to justice, because they believe that justice would not be served by official means. So Daniyal is made to set out on his international journey in search of people behind the biggest terror attack in the country. And he has the permission to put an end to the guilty when he gets his hands on them. Along with him, he has the beautiful Katrina Kaif, playing a London based Indian intelligence officer called Nawaz Mistry. Together, they are on a mission to pin down the Lashkar maestro Harris Saeed (aka Hafiz Saeed) to get revenge for the bloodshed of Mumbai.
The Performances
The plot of "Phantom" has all it takes to make a great spy thriller but it seems that Kabir Khan has lost his magic touch and created a confusing movie all the way. The star cast of the film is equally unimpressive, with Saif Ali Khan giving a repeat performance of the disaster called "Agent Vinod". Katrina does nothing more than looking pretty as she tries making a fake show of emotions with glycerine induced tears. Sabyasachi Chakraborty, Zeeshan Ayyub and Rajesh Tailang have proved to be better actors, but they do not have much scope in the story. The film moves around numerous international locales and literally ends up lost in the end. One thing is sure that Kabir Khan has been unable to recreate the magic of "Bajrangi Bhaijaan".
Box Office Collections
Despite its mediocre reviews, "Phantom" has managed a good run on the box office, thanks to the reputation of Kabir Khan after the success of "Bajrangi Bhaijaan" as well as an impressive star cast. It has been made with a budget of Rs 40 crore, which it has been well able to cover in just five days, with a total collection of Rs 41.21 crore. The fim opened with a box office collection of Rs 8.46 crore on its opening day, followed by Rs 12.78 crore and Rs 11.94 crore on the first weekend. The collection fell to Rs 4.40 crore on Monday, followed by Rs 3.63 crore on Tuesday.