Phool Ya Ho Jun (Audio) by Sabin Limbu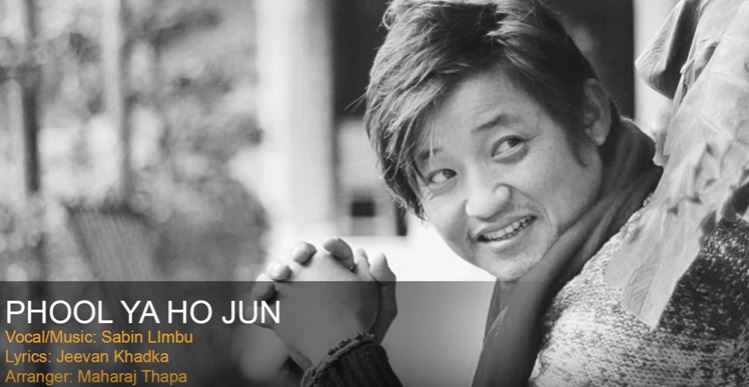 Phool Ya Ho Jun is a new Nepali pop song by Sabin Limbu. Sabin Limbu is a playback singer. Sabin Limbu has contributed her Melodious voice in many Nepali music video. This music video is just a simple audio version during the recording of the song.
The music of this song is composed by Sabin Limbu and lyrics of this song was written by Jeevan Khadka. Phool Ya Ho Jun song music video was arranged by Maharaj Thapa. Phool Ya Ho Jun song is a romantic song which tries to represent the love. When you once listen this song, I am sure you will keep repeating it. Overall, Sabin Limbu's Phool Ya Ho Jun is a nice and soothing song with great melody.
The music video is released officially online by SongsNepal via Youtube. Hope that you will enjoy this melodious pop song Phool Ya Ho Jun.
Here is the lyrics for Phool Ya Ho Jun:
Phool Ya Ho Jun
Mero maya kun ho kun
Phool Ya Ho Jun
Mero maya kun ho kun
Kuni k ko aabas ho
Chum chum chum
Chum chum chum
Chum chum chum
Phool Ya Ho Jun
Mero maya kun ho kun
Phool Ya Ho Jun
Mero maya kun ho kun
Kuni k ko aabas ho
Chum chum chum
Chum chum chum
Chum chum chum ….

Phool bhanu bana
Mero kada bejhidela
Juna ho bhanun bana
Mero tada baseda la

Phool bhanu bana
Mero kada bejhidela
Juna ho bhanun bana
Mero tada baseda la
Sura yaha dhoon
Mero Maya kun ho kun
Sura yaha dhoon
Mero Maya kun ho kun
Kuni k ko aabas ho yo
Chum chum chum
Chum chum chum
Chum chum chum……

Rupa hera kati ramro
Aakha lobai jana
Akohoro heri raye Hosai
Udhai lane

Rupa hera kati ramro
Aakha lobai jana
Akohoro heri raye Hosai
Udhai lane
Chadi ya ho sunn mero
Maya kun ho kun
Chadi ya ho sunn mero
Maya kun ho kun
Kuni k ko aabas ho yo
Chum chum chum
Chum chum chum
Chum chum chum
Phool Ya Ho Jun
Mero maya kun ho kun
Phool Ya Ho Jun
Mero maya kun ho kun
Kuni k ko aabas ho
Chum chum chum
Chum chum chum
Chum chum chum
Chum chum chum…………………