Press meet of Punarjanma in Chitwan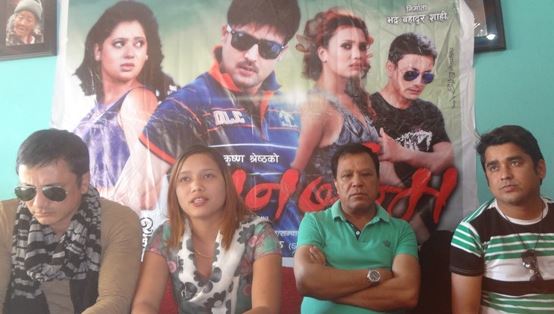 A team of movie Punarjanma, which is currently being displayed in various halls, has reached Chitwan. The crew members expressed happiness on the success of film by organising a press meet.
Actor Gajit Bista said 'Audiences have liked the movie Punarjanma. We got overwhelming response from people than we expected. We are very happy'. Similarly producer Mohan Krishna Shrestha said that after a long time a Nepali film has succeeded. He expressed his gratitude towards the audience and also thanked media workers who aided them.
President of Cine Reporters Union Ravi Adhikari also analyzed that Punarjanma is the next Nepali movie which has tasted success after Jerry. He said, 'Film should be good, audience will like it.'
After the film did good business in opening day, a team of the movie consisting of producer also went on a tour. The team will travel Hetauda, Chitwan, Butwal and Pokhara in order to interact and share happiness with the audiences. Along with Gajit, Mohan and Susmita are also present in the crew.
Aaryan Sigdel, Keki Adhkari and Mithila Sharma had played important roles in the movie which was directed by Sajan Shrestha. The movie has done impressive business till now.