Pyaar Ka Punchnama 2 Review and Box Office Collections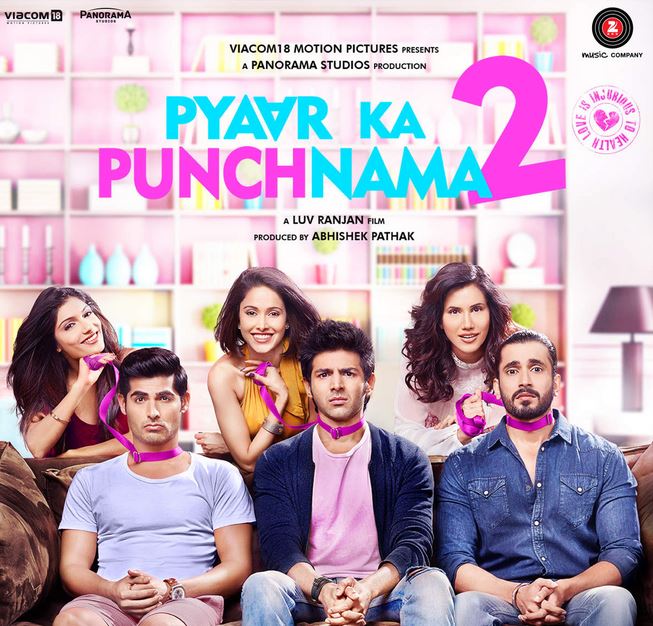 "Pyaar Ka Punchnama 2" is the sequel to the hit comedy romance movie called "Pyaar Ka Punchnama", which released in 2011 and this one too is loaded with fun and enthralling moments. The movie is directed by Luv Ranjan and stars Omkar Kapoor, Kartik Aaryan, Sunny Nijjar, Nusrat Bharucha, Ishita Sharma and Sonalli Sehgal in the lead roles. "Pyaar Ka Punchnama 2" hit the silver screens on 16th October, 2015 and got excellent reviews along with a great response at the box office.
The Plot
"Pyaar Ka Punchnama 2" is the love story of three roommates Tarun (Omkar), Anshul (Kartik) and Siddharth (Sunny), who fall for Kusum (Ishita), Ruchika (Nusrat) and Supriya (Sonalli), respectively. But the bliss of their relationships does not last that long as they realize in time the complications their involvement with girls brings to their lives. Once again, the film brings an outright hilarious sequel, which carries a total anti women streak, but still women too will enjoy the movie because it is bent at tickling your funny bone. While the original version showed the romantic encounters of three college going boys, this one has them grown up, four years ahead in their lives, framed into new names and new characters. The three young professionals find their love in these girls, who use them in every possible way to their advantage. But rib tickling comedy and a tightly knit story along with excellent performances by the star cast, makes the movie an entertainer all the way.
The Performances
"Pyar Ka Punchnama 2" is a complete package and despite having a large number of characters, each one of the actors makes a perfect fit in his or her role, and the director has done a great job at ensuring that. The boys are totally effortless as they slip into the character of these love-struck young people, while the girls look smart or dumb as and when the script demands them to do so. However, the girls are more of hot bodies rather than great actresses. The second half is the true entertainer, as boys discuss their plight as they try their best to please the women in their lives. But no matter what they do, they never end up pleasing them and this is what has been narrated with great expertise by the director. If you are looking for pure laughs this weekend, then "Pyar Ka Punchnama 2" would be just right for you.
Box Office Collection
"Pyar Ka Punchnama 2" has become a bumper hit on the box office, making a phenomenal success for a small budget film which has been made with only Rs 9 crore. The film grossed an opening collection of Rs 6.80 crore on the first day, followed by Rs 7.60 crore and Rs 8.35 crore on the second and third days. The movie has managed to make a collection of Rs 41.65 crore in its first eight days. It is all poised to cross the 50 crore mark very soon.