Reshami Reshami by Aastha B and Kamal Khatri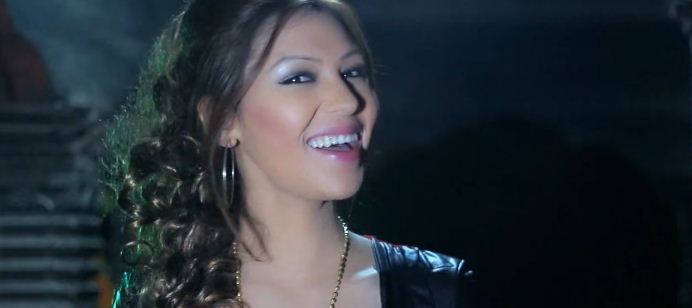 Reshami Reshami is a Nepali Pop song by Aastha B and Kamal Khatri. The music video features Subash Raya (Nima). This music video was cinematograph, edited and directed by Dhiraj Adhikari. Reshami Reshami is a beautiful dance version choreographed by Dipak Pariyar.
The instrumental as well as lyrical composition of this song was done by Kamal Khatri. Bijeshwor Tandulkar has arranged the set up for this video song. This is an energetic, youthful and enthusiastic music video for all teenagers. Dance crews; Sanju, Ramu, Aashish, Pradip and Raj has amazingly driven their grooves in this video song. I assure, this music video will entertain you and you will likely tune the song repeatedly.
The music video is officially released by SongsNepal via YouTube. Hope you guys will enjoy this beautiful song "Reshami Reshami".
Lyrics for Reshami Reshami;
Reshami reshmai tyo kalo kesh maa
ma bagna thale
Nasalu nasalu tyo aakha maa
Ma dubna thale
Hawa sangai bahe phool sangai bahe
Hawa sangai bahe phool sangai bahe
Hawa sangai bahe
Sangai bahe
Sangai bahe
Jaba timi badna thaleu yo mann ma besari
Jaba timi badna thaleu yo mann ma besari
Reshami reshami tyo kalo kesh maa

Paniko chal jhai timro maya maa
Asari ma ta bahana thale ni
Kasai ko bare kehi na sochi
Timrai maya maa dubna thale ne
Aba hera mero mann mandaina
Dherai kura garna jandaina
Ho dubisake timro maya ma esari
Samjhauna mann lai garo chha

Kasari samhalu yo manna
Bhanana bhana
Timi bina kasari ma bachu
Bhana bhana

Manna lagchha angalo ma badhina
Bhana bhana
Timi sangai dubi harauna
Bhana bhana

Hawa sangai bahe phool sangai bahe
Hawa sangai bahe phool sangai bahe
Hawa sangai bahe
Sangai bahe
Sangai bahe
Jaba timi badna thaleu yo mann ma besari
Jaba timi badna thaleu yo mann ma besari
Reshami reshmai tyo kalo kesh maa

Kasari samjhau yo manna
Bhana bhana
Mero mann bash ma chhaina kina ho
Bhana bhana

Yo saas bhari timi nai timi
Tyaha tyaha
Timi lai khoju kaha ma
Kaha kaha

Hawa sangai bahe phool sangai bahe
Hawa sangai bahe phool sangai bahe
Hawa sangai bahe
Sangai bahe
Sangai bahe
Jaba timi badna thaleu yo mann ma besari
Jaba timi badna thaleu yo mann ma besari
Reshami reshmai tyo kalo
Kesh maa