Sara Sara By Raju Lama and Ramila Gyangmi Magar (Audio)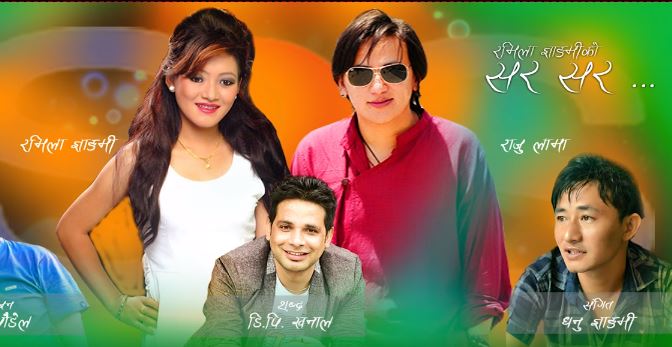 Sara Sara is a Nepali lok pop song by Raju Lama and Ramila Gyangmi Magar. The song is the romantic talk between two singers through the lyrics and music. The song is all about love and feelings along with some romantic talk. The audio mixing was done by Ashok Maharjan.
The music for this song was arranged by Dhanu Gyangmi Magar and lyrics and music for this song was composed by D.P Khanal. Raju and Ramila gives their vocal to this song and give it life. One of the most famous singers of Nepal, Raju Lama needs no introduction at all.  Heartthrob for lots of ladies, he has been successful to let his charisma attract many ladies around the nation. With his beautiful and touching lyrics, he has become successful to mesmerize not only his ladies fans but also others. This is the song which tries to represent the two imaginary lovers who are expressing love towards each other. The song includes some romantic and some flirty feelings too. When you once listen this song, I am sure you will keep repeating it.
The music video is released officially online by SRS Entertainment via Youtube. Hope that you will enjoy this Melodious lok pop song Sara Sara.
Here is the lyrics for the song:
Sara Sara Ali Wara
Kina Hun Chhau Jhan Para
Najau Maya Yo Dil Todi Lagchha Maan Ma Chot
Jahan Janchhu, Jata Janchhau
Chhayan Bani Pachhu Ne Chhu
Ma Ta Marchhu Timi Sitai Chhaat
Ma Ta Marchhu Timi Sitai Chhaat
Sara Sara Ali Wara
Kina Hun Chhau Jhan Para
Najau Maya Yo Dil Todi Lagchha Maan Ma Chot
Jahan Janchhu, Jata Janchhau
Chhayan Bani Pachhu Ne Chhu
Ma Ta Marchhu Timi Sitai Chhaat
Ma Ta Marchhu Timi Sitai Chhaat

Kehi Paunu Kehi Yahan Gumau Nu Parchha Re
Dudha Dine Gai Ko Laat Sahanu Parchha Re
Hum Kehi Paunu Kehi Yahan Gumau Nu Parchha Re
Dudha Dine Gai Ko Laat Sahanu Parchha Re
Mar Pani, Kate Pani
Rakhe Pani, Phale Pani
Ma Ta Marchhu Timi Sitai Chhaat
Ma Ta Marchhu Timi Sitai Chhaat
Sara Sara Ali Wara
Kina Hun Chhau Jhan Para
Najau Maya Yo Dil Todi Lagchha Maan Ma Chot
Jahan Janchhu, Jata Janchhau
Chhayan Bani Pachhu Ne Chhu
Ma Ta Marchhu Timi Sitai Chhaat
Ma Ta Marchhu Timi Sitai Chhaat

Ritidiyo Sansara Ma Maya Bhanne Sabda
Malai Yesto Kin Hunthyo Maan Sandhai Alpatra
Ritidiyo Sansara Ma Maya Bhanne Sabda
Malai Yesto Kin Hunthyo Maan Sandhai Alpatra
Roji Sakin, Swimpi Deau
Tyo Sora Barse Tyo Jawani
Ma Ta Marchhu Timi Sitai Chhaat
Ma Ta Marchhu Timi Sitai Chhaat
Sara Sara Ali Wara
Kina Hun Chhau Jhan Para
Najau Maya Yo Dil Todi Lagchha Maan Ma Chot
Jahan Janchhu, Jata Janchhau
Chhayan Bani Pachhu Ne Chhu
Ma Ta Marchhu Timi Sitai Chhaat
Ma Ta Marchhu Timi Sitai Chhaat
Sara Sara Ali Wara
Kina Hun Chhau Jhan Para
Najau Maya Yo Dil Todi Lagchha Maan Ma Chot
Jahan Janchhu, Jata Janchhau
Chhayan Bani Pachhu Ne Chhu
Ma Ta Marchhu Timi Sitai Chhaat