Sirima Siri by Melina Rai and Dala Jerry Rai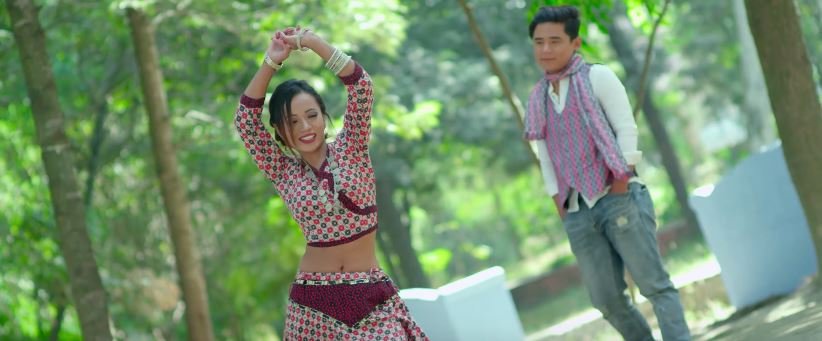 Sirima Siri is a new romantic Nepali lok pop song by Melina Rai. The music video features Bhimphedi Guys and Shilpa Tamang. Sirima Siri is a Nepali song which is directed by Tekendra Shah. The music video was edited by Tekendra Shah and was cinematographed by Rak Kumar KC.
The music for this song was composed by Basanta Sapkota and lyrics was written by Ram Repchung Rai. The music video features versatile model Shilpa Tamang. She has appeared in numerous music videos, television commercials, print ads and some of Nepali movies. In this music video, versatile playback singer Melina Rai. Melina Rai has added his sweet voice to make this song more melodious. The music video was arranged by Udayaraj Paudel and was post production by Lime Light Nepal. When you once listen this song, I am sure your body will start moving.
The music video is released officially online by SongsNepal via Youtube. Hope that you will enjoy this melodious lok pop song Sirima Siri.

Here is the lyrics for Sirima Siri:
Shiri ma shiri batasha chalo
Kancha Nishani dadha ma

Shiri ma shiri batasha chalo
Kancha Nishani dadha ma
Galbandi timro aljhela kanchha
Galbandi timro aljhela kanchha
Aishelu kadhai ma
Pulai ma phulyo basana chhalo
Kanchhi tyo pari rani ban
Pulai ma phulyo basana chhalo
Kanchhi tyo pari rani ban
Mann mero tehi basne po ho ki
Herara jun
Pulai ma phulyo basana chhalo
Kanchhi tyo pari rani ban……..

Tirkhama lage pani khau kanchhi
Pani chha kholi ma
K garyo kunni jhapi dil basyo
Phul bute choli ma
Mai ramri hoki phulbute choli
Bani deuna hajura
Hurukai parchho kutrukai marchhau
Hanera najara

Tirkhama lage pani khau kanchhi
Pani chha kholi ma
K garyo kunni jhapi dil basyo
Phul bute choli ma
Ae kanchi Phul bute choli ma
Shiri ma shiri batasha chalo
Kancha Nishani dadha ma
Shiri ma shiri batasha chalo
Kancha Nishani dadha ma……

Duedine chola bholi ke hola
Haskhela garau na
Maya ra preeti rachera shriti
Shubasha chharau
Shalala bagne sunkoshi kanchi
Baaluya bagar ma
Jun jasti bhichhou
Pul jasti raichhou
Parauni nagara ma

Duedine chola bholi ke hola
Haskhela garau na
Maya ra preeti rachera shriti
Shubasha chharau
Ae kancha Shubasha chharau
Pulai ma phulyo basana chhalo
Kanchhi tyo pari rani ban
Shiri ma shiri batasha chalo
Kancha Nishani dadha ma……………