Sirupate Khukuri by Manita Rai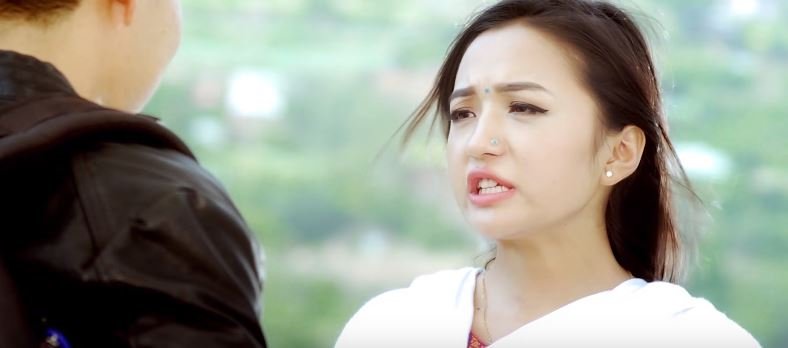 Sirupate Khukuri is a new Lok Pop Nepali song by Manita Rai. The music video features Alisha Rai and Prem Rai. Sirupate Khukuri is a Nepali song which is directed by Rajesh Puma Rai. The music video was edited by Nishan Ghimire and was cinematographed by Utsav Dahal.
The music for this song was composed by Tara Prakash Limbu and lyrics was written by Sunil Dipta Rai. The music video features versatile actress Alisha Rai. She has appeared in numerous music videos, television commercials, print ads and some of Nepali movies. In this music video, the hot model Alisha Rai has given her outstanding performance with versatile model Prem Rai. Manita Rai has added her sweet voice to make this song more melodious. When you once listen this song, I am sure your body will start moving.
The music video is released officially online by SongsNepal via Youtube. Hope that you will enjoy this melodious song Sirupate Khukuri.
Here is the lyrics for Sirupate Khukuri:
Sirupate Khukuri ko laaha
Chha ki chaena

Sirupate Khukuri ko laaha
Chha ki chaena
Chadi jane ae dai
Mann ma timro maya
Chha ki chaena
Chadi jane ae dai
Mann ma timro maya
Chha ki chaena
Sirupate Khukuri ko laaha
Chha ki chaena………

Lekha chada merai sir
Bhantheyau Tara afnai pau

Lekha chada merai sir
Bhantheyau Tara afnai pau
Kuni taha chita dhukhayo
Chadi gayau gau
Chadi gayau gau
Jhupadi ko chana talna
Thaaha chha ki chaena
Jhupadi ko chana talna
Thaaha chha ki chaena
Chadi jane ae dai
Mann ma timro maya
Chha ki chaena
Chadi jane ae dai
Mann ma timro maya
Chha ki chaena
Sirupate Khukuri ko laaha
Chha ki chaena………

Timi hidne bato bhari
Guras phulako chha

Timi hidne bato bhari
Guras phulako chha
Tara hera juna chari
Dhana jhuleko chha
Tara hera juna chari
Dhana jhuleko chha
Ori pari jindagi ko
Bhada cha ki chaena
Ori pari jindagi ko
Bhada cha ki chaena
Chadi jane ae dai
Mann ma timro maya
Chha ki chaena
Chadi jane ae dai
Mann ma timro maya
Chha ki chaena
Sirupate Khukuri ko laaha
Chha ki chaena…………