Solti Bhanyo by Ganesh Limbu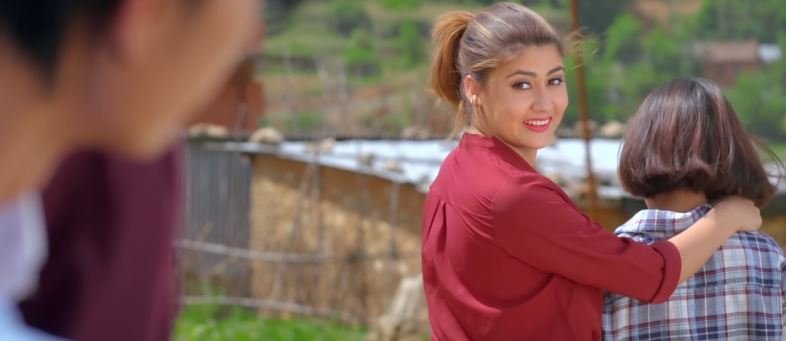 Solti Bhanyo is a New Nepali pop song by Ganesh Limbu. The music video features Sampada Baniya, Ajay and Sawan. Solti Bhanyo is a Nepali song about love and feelings towards love which is directed by Dev Jung Thapa . This music video was edited by Tekendra Shah and was cinematographed by Gyanendra Sharma.
The music as well as lyrics for this song was written by Nischal Prem Rai and music video was arranged by Dhanu Gyangmi. The music video features beautiful and versatile model Sampada Baniya. She has appeared in numerous music videos, television commercials and print ads. She is one of the established model of Nepali music video industry. In Solti Bhanyo music video, we can see how they are fallen in love with unknown person. This music video remember the romantic love. It tries to shows that there is no reason to fall in love because love happen itself. If you once watched this music video then believe me, you will feel more love towards your love.
The music video is released officially online by SongsNepal via Youtube. Hope that you will enjoy this Melodious pop song Solti Bhanyo.
Here is the lyrics for Solti Bhanyo:
Saeno le ho ki
Umer le ho yo
Solti Bhanyo malae
Solti Bhanyo malae

Saeno le ho ki
Umer le ho yo
Solti Bhanyo malae
Solti Bhanyo malae
Na ta umer 16 17 ki
Nata parne dai ko sali
Saeno le ho ki
Umer le ho yo
Solti Bhanyo malae
Solti Bhanyo malae…..

Deshai ghumdai dhuldai aauda
Deshai ghumdai dhuldai aauda
Ae pugye afnai thau ma

Deshai ghumdai dhuldai aauda
Deshai ghumdai dhuldai aauda
Ae pugye afnai thau ma
Mann milne manche ta
Raecha afnai gau ma
Raecha afnai gau ma
Rahar le ho ki
Karale ho yo
Solti Bhanyo malae
Solti Bhanyo malae…..

Ollo pallo gharai ma
Ollo pallo gharai ma
Badleko rayecha saino

Ollo pallo gharai ma
Ollo pallo gharai ma
Badleko rayecha saino
Uni mero bharai ma
Pari rayecha maya launa
Pari rayecha maya launa
Bharai am pari
Darai le hola
Solti Bhanyo malae
Solti Bhanyo malae………