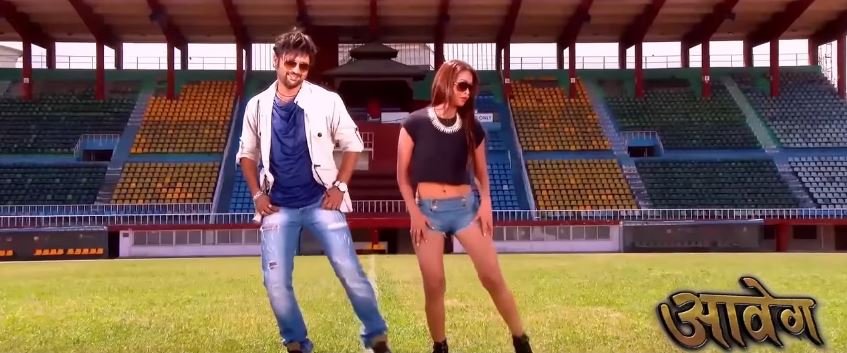 Solti is a New Nepali Romantic Remix song from the  Movie "AABEG". The music video features actor and actress are Aryan Sigdel, Pabitra Acharya, Dhruba Dutta and Archana Delala. Solti is a Nepali movie song by Tanka Budhathoki and Manisha Pokharel which is directed by Basanta Niraula. Solti was cinematographed by Purushottam Pradhan and music video was edited by Shahil Khan and Milan Shrestha.
The music of this song was composed by Tanka Budhathoki and Lyrics was written by Surya Karki. The music video is featuring by versatile actress Pabitra Acharya. Pabitra Acharya is one of the hottest and sexy actress of this era. In this song, We can see the romance between Aryan Sigdel and Pabitra Acharya. Aryan Sigdel is known as one of the versatile hero of Nepali Filmy Industry. Solti music video was Choreographed by Kabiraj Gahatraj. When you once listen this song, I am sure you will keep repeating it.
The music video is released officially online by HighlightsNepal via Youtube. Hope that you will enjoy this Romantic song Solti.

Here is the Lyrics for this song:
Solti la nacha
Ko Last ramro
Solti la side
Dako last ramro
Solti la hasako
Last ramro
Solti la herako
Last ramro
Mann excited bho
Mann excited bho
Mann excited bho
Mann excited bho…

Gajhalu aakha ko
Looks ramro
Kanai ma lagaye ko
Ring ramro
Nagbeli chal jhan
Wa ramro
Taltal talkina
Watch ramro
Solti la line deko
Last ramro
Solti la fine deko
Last ramro
Mann excited bho
Mann excited bho
Mann excited bho
Mann excited bho…

Phatakai bhaye ni
Jeans ramro
Timila layeko
Piece ramro
Mann parne manche
Ko talk ramro
Bho chadau maya
Ko sab ramro
Chori lana lagako
last ramro
Solti la side
Deko last ramro
Solti la hasako
Last ramro
Solti la herako
Last ramro
Mann excited bho
Mann excited bho
Mann excited bho
Mann excited bho…