The Raid 2 Review and Box Office Collections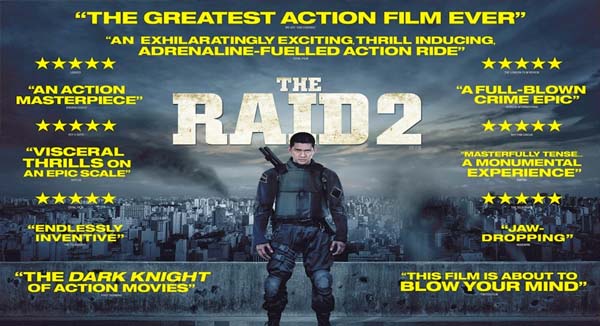 The sequel to 2012 hit film The Raid: redemption by the same director Gareth Ivans, The Raid 2: Berandel is an Indonesian film that released on March 28 2014. The bloodshed of the action thriller sustains all logic and is an extensive display of the martial arts addiction of the director. The story takes hand from Bejo assassinating Andi after which Rama meets up with Bunawar who was sent mysteriously in its predecessor. Bunawar then requests Rama to be part of the anti-corruption force that aims to expose Reza's background illegitimate dealings with the Goto Gangs, to which Rama agrees eventually. In order to find more details Rama indulges himself into Bangun's gang and injured the politician's son to be imprisoned later on with Bangun's son named Uco.
When Rama saves his life during one of the prison commotions, Bangun hires him under the name Yuda after Rama's prison terms. Yuda grows inevitable into the family operations of the gang and Uco becomes incessantly dissatisfied with his father's lacking faith in him and his capabilities along with the Japanese placidity.
Bejo then sends an invitation to Uco as for dinner to instead share the rumour of a ploy to corrupt Reza to turn against Uco's family to instigate Uco further to kill the forgotten prison goons. Uco then conspires to trigger a war of gangs to destroy Japanese to let his reputation to heights in front of his father. Bejo profits out of the deal and together they use Bejo's personal qualified assassins to set up Japanese for the murder of Prakoso to result in a terrible reprisal from Bangun.
The families attempt to blend back, but Bangun's apology irate Uco against his father. Also, Yuda is attacked by Reza's men while Bangun hits and beats up Uco for disrespect. Yuda tries to rescue Uco from Bangun but Bejo and his henchmen appear midway and Uco ends up killing his father and injuring Eka. Yuda is caught. Goto when hearing Bangun's death declares the war. Eka reveals to Rama after letting him escape that he himself is an undercover agent. Uco and Bejo meet up with Rezo and finds a bug installed by Rama and he notices Bejo's tattoo that is akin to the men in the prison attack. Rama meanwhile ends up exposing all of Bejo's assassins, the Hammer girl, Baseball Bat man and assassin. Bejo kills Uco just after he kills Reza. The film ends with Rama trying to exit with the Goto gang approaching and Keiichi sending a smile. The dialogue concludes with Rama saying that he is done.
Reviews and critics:
Rotten Tomatoes has given a 7.4/10 and metacritic 71/100. David Rooney has given a the story line and direction a positive thumbs up while rolling Stone, the Daily telegraph and Total Film has all applauded the choreography of the incredible martial arts sequence in the movie.
Box Office Collection:
The opening day Box Office collection of the movie was $165,000 and the opening week collected a $250,000. The movie was made on a budget of $4.5 Million. The net domestic and overseas gross is $6,182,214.