Timi Samu Pugchhu Jaba – Nepali Movie Dreams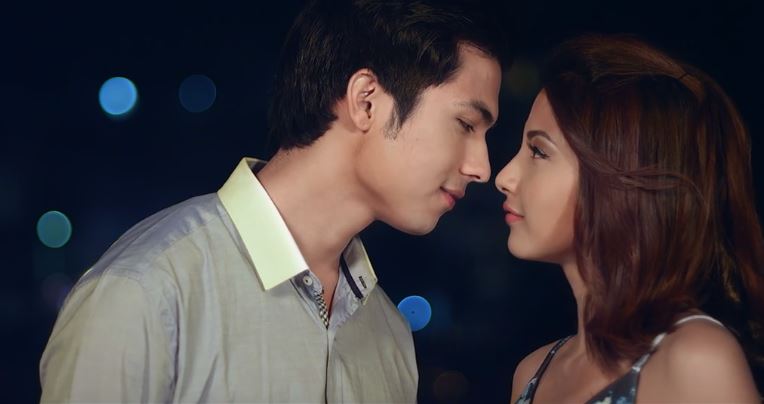 Timi Samu Pugchhu Jaba is a romantic Nepali song from Nepali movie Dreams. The music video features actor Anmol KC and actress Samragyee Rajya Laxmi Shah. Rodit Bhandari and Somiya Baraili has presented this beautiful love song. Bishes Dev Pandey from Chronic Beatz managed the music in this song.
This music video is choreographed by Kabiraj Gahatraj which is officially released online by Highlights Nepal.
You can find the lyrics of Timi Samu Pugchhu Jaba below:
Ha..

Mero man timilai khojirahanchha
Kina ho…
Timi nahuda timi nahuda
Sunya sunya
yo jivan…

Timi samu pugchhu jaba
manma kura aauchhan
tara bhanna sakdina
ke ma timlai maya garchhu

Timi samu pugchhu jaba
manma kura aauchhan
tara bhanna sakdina
ke ma timlai maya garchhu…

Timro mitho mayako batasle
batasle..
Chhoyi gayo malai..
Yi dui aakha ra mero saas le
pachyaai ranchha timlainai

Jaba timi nahuda
timro yaad aauda
hera yo man bhitra
hridaya ko kuna kuna
khojchhu timi sangai huna…

Timi samu pugchhu jaba
manma kura aauchhan
tara bhanna sakdina
ke ma timlai maya garchhu…

Timi samu pugchhu jaba
manma kura aauchhan
tara bhanna sakdina
ke ma timlai maya garchhu…

Kaile pani nachhutos
hamro sambandha

Saath kaile natutos..

Chhitij pari ko maya ko hamro sansarmaa

Kasaiko aakha nalagos

Jaba timi nahuda
timro yaad aauda
hera yo man bhitra
hrydaya ko kuna kuna
khojchhu timi sangai huna…

Timi samu pugchhu jaba
manma kura aauchhan
tara bhanna sakdina
ke ma timlai maya garchhu…

Timi samu pugchhu jaba
manma kura aauchhan
tara bhanna sakdina
ke ma timlai maya garchhu…
Save
Save