Two hours of my life in Pokhara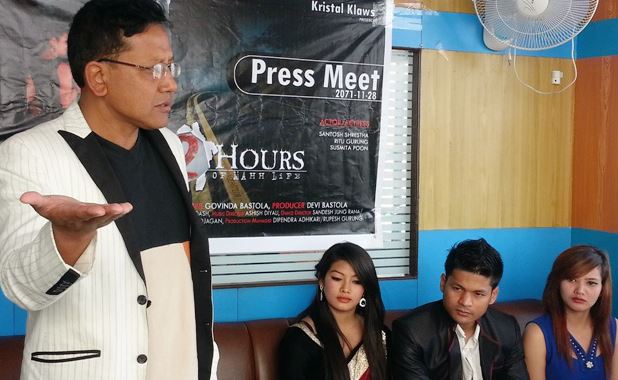 Nepali film Two hours of my life is going to be produced. The inauguration of the movie was done on Friday which will be presented by crystal claws. Artists from Pokhara will dominate in the movie. With the starting of month Chaitra the movie will go on the floor for shooting said the production team.
Santosh Shrestha, Ritu Gurung and Susmita Pun are going to act in the movie while Govinda Bastola is the debutant director of the movie to be made. Director Bastola said that the movie which has the budget of 20 lakh will be shot in Pokhara and hills for about a month.
'The movie will be a masala movie and is targeting youth generation', said the director on the occasion. 'In order to produce standard films we have initiated the work', he added. Story was also written by director himself.
Director Bastola came to Nepal for movie direction while working for Indian soap operas. Bastola who is chartered accountant by profession, claimed that Two hours of my life will be a special kind of movie.
Director Dinesh DC gave good wishes to the movie during the event. He also said that although it is difficult to make films by staying out of the capital but due to the quality of movie it might create an affect even in national level.
The movie which is being invested by Devi Bastola will be shot by Dipakman Udas. Aasish Diyali is the musician while Sandesh jung Rana and Dev Gurung are the choreographer in the movie and Dependra Adhikari is the manager of the movie.