UM Renegade Sports Review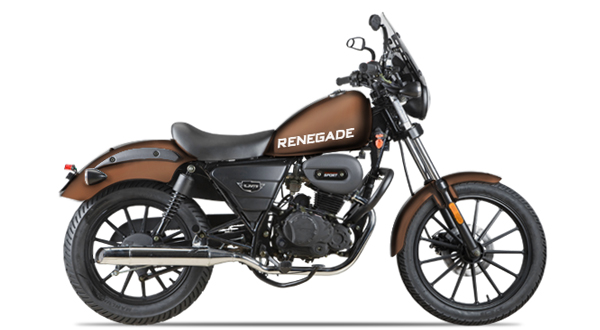 The name "UM" makes us remind of the powerful off-road bikes like the DSR and Hypersport and the classic motorbikes Renegade Commando and the Renegade Duty. The same company, following its tradition, released another bike in the segment of Renegade, the Renegade Sports.
The Renegade Sports is completely built on the body platform of the Renegade Duty. The headlights, alloy wheels, fuel tank looks similar to the Duty. The only difference that can be noticed in the bike is the exhaust and the graphics painting. UM has been exporting two variants of the Renegade Sports; Sports 140 cc and Sports 180 cc.
Both, Renegade Sports 140 cc and the 180 cc have got the same body height and length of 1280 mm and 1975 mm respectively. Also, both variants have got the weight of 110 kg and the wheelbases of both bikes are of 1350 mm.
Moreover, the Renegade Sports 140 and 180 cc are powered with same single cylinder, 4 stroke engines. However, the engine coming with the 140 cc produces maximum power of 10.97 bhp and maximum torque of 10.53 Nm. Whereas, the engine featured in the 180 cc is capable of producing maximum power and torque of 16.7 bhp @ 8600 RPM and 13.68 Nm @ 8000 RPM respectively.
Furthermore, both variants of Renegade Sports get imported in Nepal under the dealership of IME Automotives Pvt. Ltd.
Price in Nepal: Rs. 2,50,000 (Renegade Sports 140),
Rs. 280,000 (Renegade Sports 180)
Dimension:
| | | |
| --- | --- | --- |
|  Category |  Renegade Sports 140 cc |  Renegade Sports 180 cc |
|  Body Type |  Cruiser |  Cruiser |
|  Weight |  110 kg |  110 kg |
|  Length |  1975 mm |  1975 mm |
|  Height |  1280 mm |  1280 mm |
|  Width |  NA |  NA |
|  Wheelbase |  1350 mm |  1350 mm |
|  Ground Clearance |  NA |  NA |
Engine:
| | | |
| --- | --- | --- |
|  Category |  Renegade Sports 140 cc |  Renegade Sports 180 cc |
|  Fuel |  10.2 liters |  10.2 liters |
|  Engine Type |  Single Cylinder, 4 Stroke |  Single Cylinder, 4 Stroke |
|  Maximum Power |  10.97 bhp |  16.7 bhp @ 8600 RPM |
|  Maximum Torque |  10.53 Nm |  13.68 Nm @ 8000 RPM |
|  Box X Stroke |  57 x 54 mm |  63.5 x 56.8 mm |
|  Starting System |  Electric/Kick |  Electric/Kick |
|  Final Drive |  NA |  NA |
Suspension:
| | | |
| --- | --- | --- |
|  Category |  Renegade Sports 140 cc |  Renegade Sports 180 cc |
|  Front Suspension |  Hydraulic Telescopic |  Hydraulic Telescopic |
|  Rear Suspension |  Hydraulic with Spring |  Hydraulic with Spring |
|  Front Tyre |  NA |  2.75-18, Tubeless Tire |
| Rear Tyre |  NA |  110/90-16, Tubeless Tire |
Brakes:
| | | |
| --- | --- | --- |
|  Category |  Renegade Sports 140 cc |  Renegade Sports 180 cc |
|  Front Brake |  Disc |  Disc |
|  Rear Brake |  Drum |  Drum |
Transmission:
| | | |
| --- | --- | --- |
|  Category |  Renegade Sports 140 cc |  Renegade Sports 180 cc |
|  Transmission |  Manual |  Manual |
|  No. of Gears |  5 |  5 |
|  Clutch |  NA |  NA |