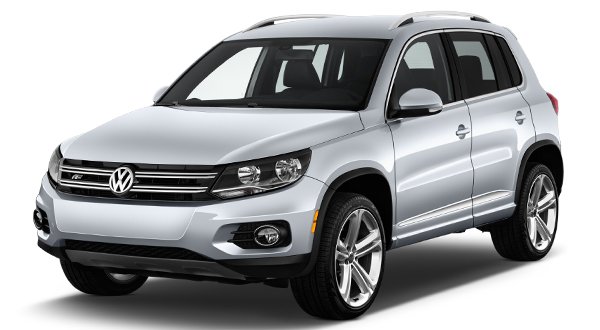 Produced in the year 2007 by a German auto manufacturer Volkswagen, the Tiguan is small crossover SUV car. The concept of the Volkswagen was launched in the year 2006 at LA Auto Show and the manufactured car was unveiled at International Motor Show in 2007. Similarly, Volkswagen launched the second gen Tiguan at the IAA in Frankfurt in the year 2016.
The Volkswagen Tiguan features the length and height of 4433 mm and 1703 mm respectively. Furthermore, the front and the rear wheels maintain the gap of 2604 mm and the lower chassis is 200 mm away from the ground. Besides, the front and the rear tracks are of 1559 mm and 1571 mm respectively.
Moreover, Volkswagen has been exporting 6 different varieties of Volkswagen Tiguan in Nepal under the dealership of Pooja International Private Limited.
Price in Nepal: Rs. 7,245,000 (For 1.4 L Petrol Automatic Basic),
Rs. 7,945,000 (For 2.0 L Petrol Manual Basic),
Rs. 8,445,000 (For 2.0 L Petrol Auto Basic),
Rs. 9,145,000 (For 2.0 L Petrol Auto Semi-Loaded),
Rs. 9,450,000 (For 2.0 L Petrol Auto Loaded),
Rs. 9,34,50,000 (For 2.0 L Diesel Auto Basic)
Specifications
Dimension:
| | |
| --- | --- |
|  Body Type |  SUV |
|  Basic Weight |  1642 kg |
|  Length |  4433 mm |
|  Height |  1703 mm |
|  Wheelbase |  2604 mm |
|  Front Track |  1559 mm |
|  Rear Track |  1557 mm |
|  Ground Clearance |  200 mm (1.4 l Petrol 4×2 Auto Basic / 2.0 L Petrol Manual Basic / 2.0 Petrol Auto Basic / 2.0 L Petrol Auto Semi-Loaded / 2.0 L Petrol Auto Loaded), 195 mm (2.0 L Diesel Auto Basic) |
Engine:
| | |
| --- | --- |
| Fuel Tank |  64 liters |
|  Cylinders |  NA |
|  Valves Per Cylinder |  NA |
|  Displacement |  1390 cc (1.4 l Petrol 4×2 Auto Basic), 1984 cc (2.0 L Petrol Manual Basic / 2.0 Petrol Auto Basic / 2.0 L Petrol Auto Semi-Loaded / 2.0 L Petrol Auto Loaded), 1964 cc (2.0 L Diesel Auto Basic) |
|  Max Power |  198 bhp (1.4 l Petrol 4×2 Auto Basic / 2.0 L Petrol Manual Basic / 2.0 Petrol Auto Basic / 2.0 L Petrol Auto Semi-Loaded / 2.0 L Petrol Auto Loaded), 138 bhp (2.0 L Diesel Auto Basic) |
|  Max Torque |  240 Nm (1.4 l Petrol 4×2 Auto Basic / 2.0 L Petrol Auto Semi-Loaded / 2.0 L Petrol Auto Loaded), 280 Nm (2.0 L Petrol Manual Basic / 2.0 Petrol Auto Basic), 320 Nm (2.0 L Diesel Auto Basic) |
Dynamics:
| | |
| --- | --- |
| Front Brakes |  Ventilated Disc (1.4 l Petrol 4×2 Auto Basic / 2.0 L Petrol Manual Basic / 2.0 Petrol Auto Basic / 2.0 L Petrol Auto Semi-Loaded / 2.0 L Diesel Auto Basic), Power-assisted, dual circuit, 312 mm x 25 mm vented (2.0 L Petrol Auto Loaded) |
| Rear Brakes |  Solid Disc (1.4 l Petrol 4×2 Auto Basic / 2.0 L Petrol Manual Basic / 2.0 Petrol Auto Basic / 2.0 L Petrol Auto Semi-Loaded / 2.0 L Diesel Auto Basic), 280 mm x 12 mm solid rear discs (2.0 L Petrol Auto Loaded) |
| Front Wheels |  NA |
| Rear Wheels |  NA |
| Front Suspensions |  Strut-type with Lower Control Arms, Coil Springs, Telescopic Dampers, 22-mm Diameter Anti-roll Bar |
| Rear Suspensions |  Multi-link, Coil Springs, Telescopic Dampers, Anti-roll Bar |
Transmission:
| | |
| --- | --- |
|  Transmission |  Automatic (1.4 l Petrol 4×2 Auto Basic / 2.0 L Petrol Auto Basic / 2.0 L Petrol Auto Semi-Loaded / 2.0 L Petrol Auto Loaded / 2.0 L Diesel Auto Basic), Manual (2.0 L Petrol Manual Basic) |
|  Number of Gears |  6 |