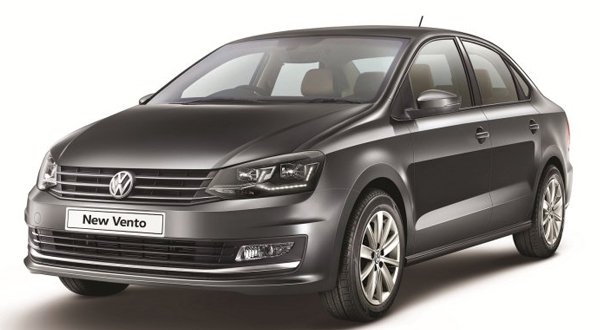 Manufactured by a reputed German four-wheeler multinational company Volkswagen since 2010, the Vento is small sedan car. The Vento is actually manufactured at Indian factory, Russian factory, and South African factory of Volkswagen and is sedan version of Volkswagen Polo.
The Volkswagen Vento features the length and height of 4384 mm and 1466 mm respectively. Furthermore, the wheelbase of the car is 2552 mm, however, its hatchback version had only 2456 mm of wheelbase. The lower chassis too maintains the gap of 168 mm from the ground.
Moreover, Volkswagen India manufactures three categories of Vento: Trendline, Comfortline and Highline along with Petrol Highline which has automatic options. The Trendline is the entry level variant of the Vento and doesn't possess much features. Similarly, the Comfortline is the middle level Vento and comes with features like CD-MP3 music player, mirrors having the color of body, fog lamp and others. Likewise, the Highline refers to the high-end variant of Vento coming with high-end specs like combined USB music player, audio controller joined on the steering, ABS, front airbags along with other classy specifications.
Volkswagen India, besides, exports all three categories of Vento in Nepal under the dealership of Pooja International Private Limited.
Price in Nepal: Rs. 3,295,000 (For 1.6 Diesel Trendline),
Rs. 3,445,000 (For 1.6 Petrol Trendline),
Rs. 3,645,000 (For 1.6 Petrol Comfortline),
Rs. 3,845,000 (For 1.6 Diesel Trendline),
Rs. 3,995,000 (For 1.6 Diesel Comfortline),
Rs. 4,045,000 (For 1.6 Petrol Highline),
Rs. 4,445,000 (For 1.6 Diesel Highline)
Specifications
Dimension:
| | |
| --- | --- |
|  Body Type |  Sedan |
|  Basic Weight |  1220 kg |
|  Length |  4348 mm |
|  Height |  1466 mm |
|  Wheelbase |  2552 mm |
|  Front Track |  NA |
|  Rear Track |  NA |
|  Ground Clearance |  168 mm |
Engine:
| | |
| --- | --- |
| Fuel Tank |  55 liters |
|  Cylinders |  4 |
|  Valves Per Cylinder |  4 |
|  Displacement |  1598 cc |
|  Max Power |  103 bhp |
|  Max Torque |  153 Nm (1.6 Diesel Trendline / 1.6 Petrol Trendline / 1.6 Petrol Comfortline / 1.6 Petrol Highline), 250 Nm (1.6 Diesel Trendline / 1.6 Diesel Comfortline / 1.6 Diesel Highline) |
Dynamics:
| | |
| --- | --- |
| Front Brakes |  Disc |
| Rear Brakes |  Drum |
| Front Wheels |  NA |
| Rear Wheels |  NA |
| Front Suspensions |  McPherson Strut with Stabilizer Bar |
| Rear Suspensions |  Semi-independent Trailing Arm |
Transmission:
| | |
| --- | --- |
|  Transmission |  NA (1.6 Diesel Trendline), Manual (1.6 Petrol Trendline / 1.6 Petrol Comfortline / 1.6 Diesel Trendline / 1.6 Diesel Comfortline / 1.6 Petrol Highline / 1.6 Diesel Highline) |
|  Number of Gears |  NA (1.6 Diesel Trendline), 5 (1.6 Petrol Trendline / 1.6 Petrol Comfortline / 1.6 Diesel Trendline / 1.6 Diesel Comfortline / 1.6 Petrol Highline / 1.6 Diesel Highline) |