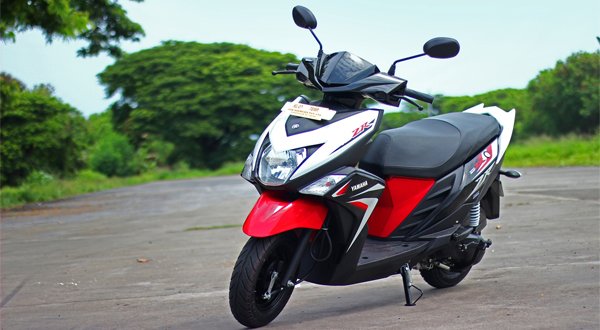 Most of the company including Yamaha has always focused on the scooters which are suitable for either girl or woman. However, Yamaha, thinking about the young boys who choose to ride scooter introduced Yamaha Ray ZR, the updated version of the existing Yamaha Ray Z.
The Yamaha Ray ZR, as the company has introduced the scooter as a boy's scooter, receives a masculine exterior. The front part of the scooter has been perfectly sculpted to give it a muscular look. The normal taillight also has been revised with sculpted taillight which makes a perfect match with the scooter. The old meter console has also been replaced stylish console which is also clearly visible during the night.
Furthermore, the Yamaha Ray ZR features the height of 1115 mm and 1820 mm respectively. The wideness of the scooter is of 700 mm and the scooter weighs 105 kg. The front wheel further maintains the gap of 1270 mm and the scooter is 130 mm far from the ground.
Also, the scooter is equipped with powerful air cooled, 4 stroke, SOHC, 2 valve engine which provides maximum power of 7.2 PS @ 7500 RPM and maximum torque of 8.1 Nm @ 5000 RPM. Besides, the scooter is also featured with strong telescopic fork front suspension and unit swing arm rear suspension. Besides, the scooter is available in two variants: disc and drum and the company has made both variants in four color varieties.
Moreover, Morang Auto Works has been importing the Yamaha Ray ZR in Nepal and also has been looking after its sales and service.
Price in Nepal: Rs. 1,83,900 (Drum),
Rs. 191,900 (Disc)
Dimension:
| | | |
| --- | --- | --- |
|  Category |  Yamaha Ray ZR Drum | Yamaha Ray ZR Disc |
|  Body Type |  Scooter |  Scooter |
|  Weight |  105 kg |  103 kg |
|  Length |  1820 mm |  1820 mm |
|  Height |  1115 mm |  1115 mm |
|  Width |  700 mm |  700 mm |
|  Wheelbase |  1270 mm |  1270 mm |
|  Ground Clearance |  130 mm |  130 mm |
Engine:
| | | |
| --- | --- | --- |
|  Category |  Yamaha Ray ZR Drum |  Yamaha Ray ZR Disc |
|  Fuel |  5.2 liters |  5.2 liters |
|  Engine Type |  Air-cooled, 4-stroke, SOHC, 2-valve |  Air-cooled, 4-stroke, SOHC, 2-valve |
|  Maximum Power |  7.2 PS @ 7500 RPM |  7.2 PS @ 7500 RPM |
|  Maximum Torque |  8.1 Nm @ 5000 RPM |  8.1 Nm @ 5000 RPM |
|  Displacement |  113 cc |  113 cc |
|  Box X Stroke | NA |  NA |
|  Starting System |  Electric/Kick | Electric/Kick |
|  Final Drive |  NA |  NA |
Suspension:
| | | |
| --- | --- | --- |
|  Category |  Yamaha Ray ZR Drum |  Yamaha Ray ZR Disc |
|  Front Suspension |  Telescopic Fork |  Telescopic Fork |
|  Rear Suspension |  Unit Swing-arm |  Unit Swing-arm |
|  Front Tyre |  90/100-10 53 J Tubeless |  90/100-10 53 J Tubeless |
| Rear Tyre |  90/100-10 53 J Tubeless |  90/100-10 53 J Tubeless |
Brakes:
| | | |
| --- | --- | --- |
|  Category |  Yamaha Ray ZR Drum |  Yamaha Ray ZR Disc |
|  Front Brake |  Drum |  Hydraulic single disc brake |
|  Rear Brake |  Drum |  Mechanical leading trailing |
Transmission:
| | | |
| --- | --- | --- |
|  Category |  Yamaha Ray ZR Drum |  Yamaha Ray ZR Disc |
|  Transmission |  V-Belt Automatic |  V-Belt Automatic |
|  No. of Gears |  NA |  NA |
|  Clutch |  NA |  NA |