Nepali song Yo Maya Ke Ho From Movie DhukDhuki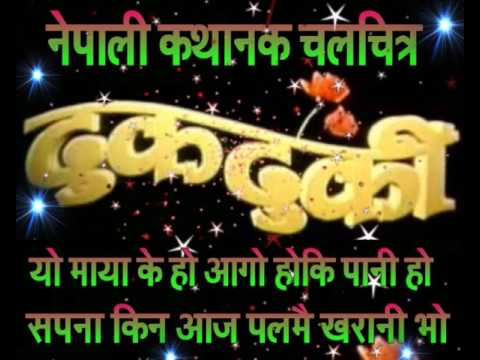 Yo Maya Ke Ho is a Nepali movie video song from Movie DhukDhuki. In this music video the performance was given by very famous and well known actor and actress Rajesh Hamal and Karishma Manandhar. Yo Maya Ke Ho is very beautiful song which tries to explain the Love.
Yo Maya Ke Ho is a forever Green song from Nepali well known movie Dhuk Dhuki. In this movie actor Rajesh Hamal and beautiful actress Karishma Manandhar played very interesting roles. In this movie when the distance between Rajesh Hamal and Karishma increased due to different obstacles, then this song take part in that movie. This song wants to explain the Love between to deep lovers with the help of lyrics and music. And the famous actor and actress tries to represent the scenario as much they can. I assure you will love this music video and tune repeatedly once after you hear it.
The music video is officially released online by Sairam Pictures via YouTube. Hope you guys will love this tragic video song Yo Maya Ke Ho.
Here is the lyrics for the song Yo Maya Ke Ho:
Yo maayaa ke ho
Aago ho ki paani ho
Yo maayaa ke ho
Aago ho ki paani ho
Sapanaa kina aaja
Palmai kharaani bho

Bhatbhati polyo mutumaa aaja
Bhatbhati polyo mutumaa aaja
Nabolchha din nahaaschha saajha
Yo maya ke ho
Aago ho ki paani ho
Sapanaa kina aaja
Palmai kharaani bho

Khele dherai aasu sanga
Aaja aasu bijhyo
Phool samjhi tipthe sadhai
Aaja kada bijhyo
Mutu polda ke dukhchha ra
Maya polda dukhyo
Parelimaa hasne khusi
Aaja kaha lukyo

Yo maayaa ke ho
Aago ho ki paani ho
Sapanaa kina aaja
Palmai kharaani bho

Chira chira bhayo maayaa
Ainaa futesari
Aaja mero manai faatyo
Najodine gari
Dharti faate jodinthyo ki
Mana siunai gaarho
Piratile ruwaayeko jindagi mero

Yo maayaa ke ho
Aago ho ki paani ho
Yo maayaa ke ho
Aago ho ki paani ho
Sapanaa kina aaja
Palmai kharaani bho

Bhatbhati polyo mutumaa aaja
Bhatbhati polyo mutumaa aaja
Nabolchha din nahaaschha saajha

Yo maya ke ho
Aago ho ki paani ho
Sapanaa kina aaja
Palmai kharaani bho