Aankhale Aankha By Jagadish Samal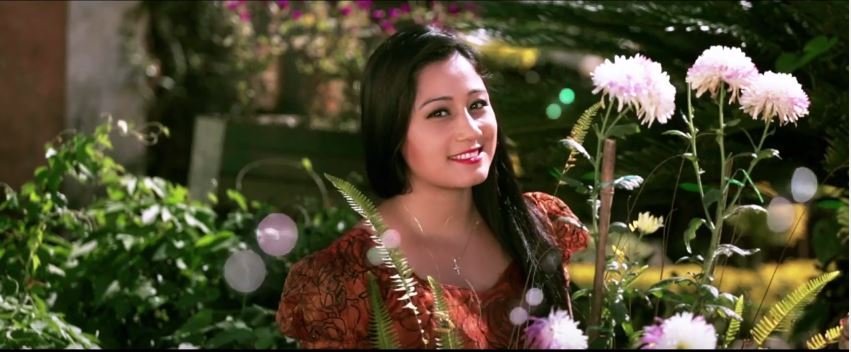 Aankhale aankha po herethe is a New Nepali pop song from Album "Joon". The music video features actor and actress are Dipen Khadka and Smitha Thapliya. Aankhale aankha po herethe is a Nepali song by Jagadish Samal which is directed by Som Kuskumajhi and choreographed by Arjun Khadka. This music video was Arranged by Chand Singh.
The music of this song is composed by Sonam Bajyoo and lyrics was given by Parkha Maila. The music video is edited by Dipak Tamang. The music video is released officially online by HighlightsNepal via Youtube. Hope that you will enjoy this Melodious pop Song Aankhale aankha po herethe by Jagadish Samal.

Here is the lyrics for the song:
Aankhale aankha po herethe
Mutu po dhukhana thalacha
Hoo
Aankhale aankha po herethe
Mutu po dhukhana thalacha
Dhukhae bitra dhuka dhuki ma
Perati phoolna thalacha
Dhukhae bitra dhuka dhuki ma
Perati phoolna thalacha
Aankhale aankha po herethe…

K maya baso kae kuni
Satayo malae aati nai
Samjhana ma tarpidai
Garo vayo jiuna aati nai
k maya baso kae kunni
Satayo malae aati nai
Samjhana ma tarpidai
Garo vayo jiuna aati nai
Laedau lau na ajanai
Chaya bhanara taan sagai
Laedau lau na ajanai
Chaya bhanara taan sagai
Chaedauna lau na saddai nai
Maya bhanara taan sagai
Chaedauna lau na saddai nai
Maya bhanara taan sagai
Aankhale aankha po herethe…

Gayara unalai vetum ta
Kaha hola gau thaha chaena
Chitima khabar lakhum ta
K ho la nam thaha chaena
Gayara unalai vetum ta
Kaha hola gau thaha chaena
Chitima khabar lakhum ta
K ho la nam thaha chaena

Laijauna malae ae chari
Maya ko sundar to gau ma
Laijauna malae ae chari
Maya ko sundar to gau ma
Hasara perati gasara
Rahar cha basna to thau ma
Hasara perati gasara
Rahar cha basna to thau ma
Aankhale aankha po herethe
Mutu po dhukhana thalacha..

Hoooooo
Aankhale aankha po herethe
Mutu po dhukhana thalacha
Dhukhae bitra dhuka dhuki ma
Perati phoolna thalacha
Dhukhae bitra dhuka dhuki ma
Perati phoolna thalacha…