Aankhama Matrai by Jagadish Samal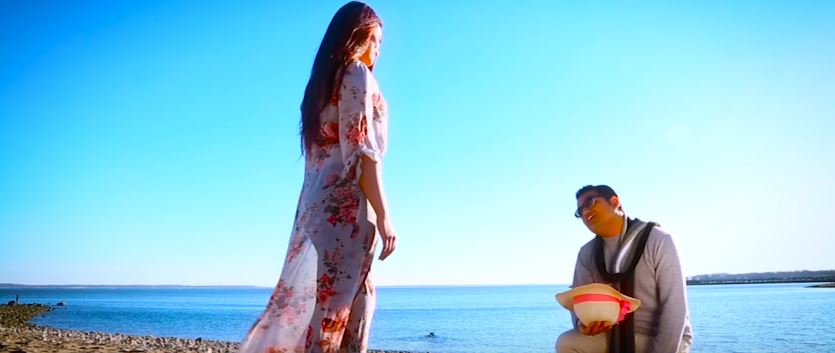 Aankhama Matrai is a New Aadhunik Melodious Nepali pop song from Album "SAMJHANA". The music video features by Laxman and Maggie. Aankhama Matrai is a Nepali song by Jagadish Samal which is directed by Om Karmacharya. Aankhama Matrai music video was edited as well as cinematographed by Om Karmacharya himself.
The music as well as lyrics of this song was composed by Amar Roka. The music video is featuring by versatile model Maggie. Maggie is one established hot and sexy model of Nepali music video. Aankhama Matrai is a romantic pop song. The music video was Presented by Om Mega Audio & Video Production. When you once listen this song, I am sure you will keep repeating it.
The music video is released officially online by SongsNepal via Youtube. Hope that you will enjoy this Melodious pop  Song Aankhama Matrai.

Here is the lyrics for the song:
Aankhama matrai hoina
Mutu ma rakhna khojha

Aankhama matrai hoina
Mutu ma rakhna khojha
Yo preet timrai ho ni
Yo geet timrai ho ni
Yo preet timrai ho ni
Yo geet timrai ho ni
Aankhama matrai hoina
Mutu ma rakhna khojha…

Chhati bitrai bhari yera
Dubai aakha pareli ma
Lukayeko Sadai bhari
Yo samjhana timrai ho ni
Batash jhai dulna haina
Yo pahada ma phulna khojha
Batash jhai dulna haina
Yo pahada ma phulna khojha
Suna khari dadha bhari
Yo mausam timrai ho ni
Suna khari dadha bhari
Yo mausam timrai ho ni
Aankhama matrai hoina
Mutu ma rakhna khojha…

Sir ko topi phukayera
Sustaya ko bela pani
Baldulki la satae raho
Tirkhayeko ho ki
Akash ma bho pardaina
Phursad ma piyash
Metna khojha
Akash ma bho pardaina
Phursad ma piyash
Metna khojha
Yo junu timrai ho ni
Yo bacha timlai bho ni
Yo junu timrai ho ni
Yo bacha timlai bho ni
Aankhama matrai hoina
Mutu ma rakhna khojha…