Aaundaichhu Ma By Sanjeev Singh Ft. Koshish Chhetri and Benisha Hamal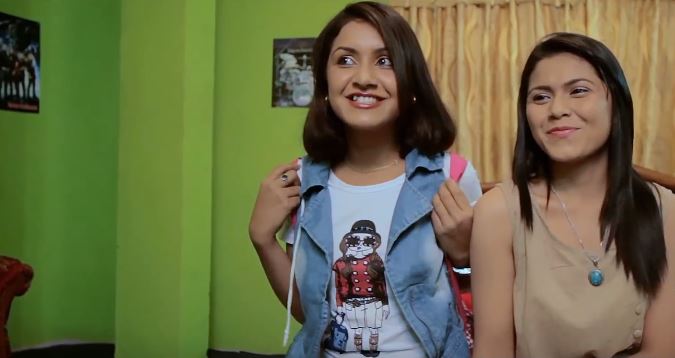 Aaundaichhu Ma is a new pop song by Sanjeev Singh. This song, Aaundaichhu Ma was from Movie Mokshya. This song and whole film was directed by Prabeen Shrestha and edited by Gambir Rajkarnikar. The cinematographer are Hari Humagain, Pratap Singh and Rabin Shrestha.
The lyrics for the song was written by Yogendra Mani Dahal and music was composed by Sanjeev Singh.  This song and the whole movie was produced by Sunil Manandhar. The music video is full of entertainment and enjoy. The vocal in this song made this song awesome which is given by singer Sanjeev Singh. He is one of the well known singer in the music industry. This song was presented by Mokshya Production. When you once listen this song, I am sure you will keep tuning it.
The music video released officially online by mokshyathefilm via Youtube. Hope that you will enjoy this melodious pop song Aaundaichhu Ma.
Here is the lyrics for the song Aaundaichhu Ma:
Audai chhu ma tmilae
Linalae….linalae….
Thaha chha tmi meri hau
Sabailae … Sabailae…
Dherai vayo tmilae naveteko
Dherai vayo tmilae nadekheko

Lanechhu ma tmilae dherai para
Hamro bahek hunna teha kunai ghara
Rakhechhu ma tmilae
Mutu majha…. mutu majha….
Dina hunchha hera teha
Hunna sajha…. hunna sajha….
Dherai vayo tmilae naveteko
Dherai vayo tmilae nadekheko

Janechhu ma tmi liyera sagarama
Sundar lagchha sansar hamro najarma
Chahanchhu ma tmilae
Khusi dina… khusi dina…..
Bitne chha sukhale harmo
Harek din…. harek din….
Dherai vayo tmilae naveteko
Dherai vayo tmilae nadekheko