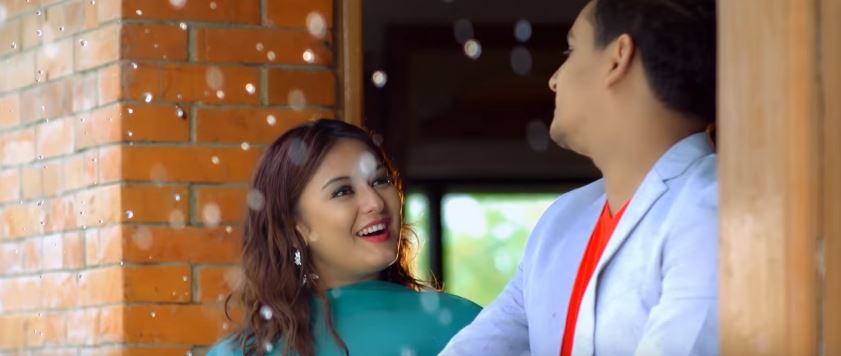 Adharma Maya is a New Aadhunik Melodious Nepali pop song from Album "BUDA BAA". The music video features by Kishor and Barsha Raut. Adharma Maya is a Nepali song by Vaani which is directed by Nikesh Khadka. This music video was cinematographed by Arjun Tiwari & his Team and music video was edited by Nishan Ghimire.
The music of this song was composed by Pushpan Pradhan and lyrics of this song is written by Sita Sitaula (Shrestha). The music video is featuring by versatile actress Barsha Raut. Nepali actress and model Barsha Raut has established herself as a successful model in Nepali music video. She featured in more than 100 music videos and ads, Barsha is the hot cake in Nepali music video industry. Adharma Maya is a romantic love story pop song which want to express that no one can stay alive without love in this world. Love has spread as a air all over the earth. Love is one of the most important basic need of this world which we can see in this music video.
The music video is released officially online by SongsNepal via Youtube. Hope that you will enjoy this Melodious pop  Song Adharma Maya.

Here is the lyrics for the song:
Adhara ma maya
Boli ma maya
Heraema huncha maya
Jati sukai lukaya pani
Bolidincha afai maya

Adhara ma maya
Boli ma maya
Heraema huncha maya
Jati sukai lukaya pani
Bolidincha afai maya
Bolidincha afai maya…

Tarif matra garum
Jasto lagcha
Baigun kae dhekhidaina
Aakha bhari maya matra
Khot kae betidaina
Tarif matra garum
Jasto lagcha
Baigun kae dhekhidaina
Aakha bhari maya matra
Khot kae betidaina
Ashu ma maya
Haso ma maya
Adhara ma maya
Boli ma maya
Heraema huncha maya
Jati sukai lukaya pani
Bolidincha afai maya
Bolidincha afai maya…

Ekai chand ojhal huda
Aakha la khojhi rahancha
Kaha hola kasto hola
Mann la sodhi rahancha

Ekai chand ojhal huda
Aakha la khojhi rahancha
Kaha hola kasto hola
Mann la sodhi rahancha
Risae ma maya
Jiskae ma maya
Ghurkae ma maya
Chatai ma maya
Adhara ma maya
Boli ma maya
Heraema huncha maya
Jati sukai lukaya pani
Bolidincha afai maya
Bolidincha afai maya…