Aanakani Garchhau Kina By Yash Kumar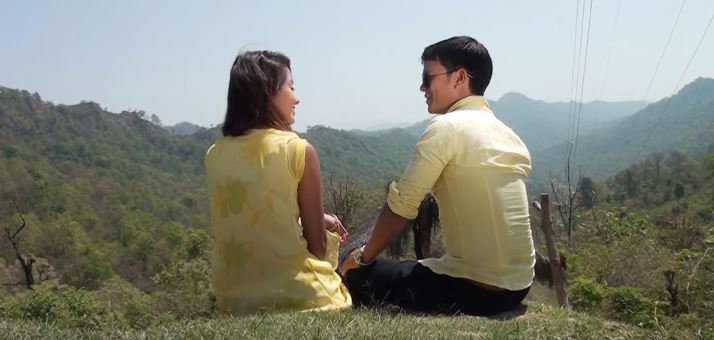 Aanakani Garchhau Kina is a Adhunik Sentimental Nepali song by Yash Kumar. This music video features Jagat , Sarada and Harihar. This beautiful music video was directed and edited by Amritman Oli. And Sudan Nepal is the cameraman of this music video.
The lyrics and music for this song is composed by Yash Kumar. The vocal in this song is also given by Yash Kumar himself. The prominent singer Yash Kumar is well known name in Nepalese entertainment world. He was born in 16th Nov, 1978 to father Ram Nepal and mother Gita Nepal at Sarlahi. In most of his songs we could feel the pain of racism in our Nepal, specially in rural area. In this song actor Jagat, Sarada and Harihar plays their role very well. The theme of this song is that we have to make it clear whether we love someone who purpose us or not. When you once listen this song, I am sure you will keep repeating it.
The music video is released officially online by Dhaulagiri Cassette Center via Youtube. Hope that you will enjoy this melodious and sentimental song Aanakani Garchhau Kina.
Here is the lyrics for the song:
Aana kani garchau kina
Maya lagauna
Huncha bhane huncha bhana
Hunna bhane hunna bhana

Aana kani garchau kina
Maya lagauna
Huncha bhane huncha bhana
Hunna bhane hunna bhana

Huncha bhane huncha bhana
Hunna bhane hunna bhana

Timi saga kahile kehi
Jhuto bolya chaina
Mage satha mitho maya
Aru kehi magya haina

Timi saga kahile kehi
Jhuto bolya chaina
Mage satha mitho maya
Aru kehi magya haina

Laijane chu timilai
Mero ghar sajauna
huncha bhane huncha bhana
hunna bhane hunna bhana

Aana kani garchau kina
Maya lagauna
Huncha bhane huncha bhana
Hunna bhane hunna bhana

Huncha bhane huncha bhana
Hunna bhane hunna bhana

Akasah ko tara jharda
Timilai nai magne garchhu
Fursad chaina ekai china.
Timilai nai sochhne garchhu

Akasah ko tara jharda
Timilai nai magne garchhu
Fursad chaina ekai china
Timilai nai sochhne garchhu

man ko kuro sabai vanee
Choda aba lajauna
hunchavane huncha vana
Hunavanehuna bhan

Aana kani garchau kina
Maya lagauna
Huncha bhane huncha bhana
Hunna bhane hunna bhana

Huncha bhane huncha bhana
Hunna bhane hunna bhana