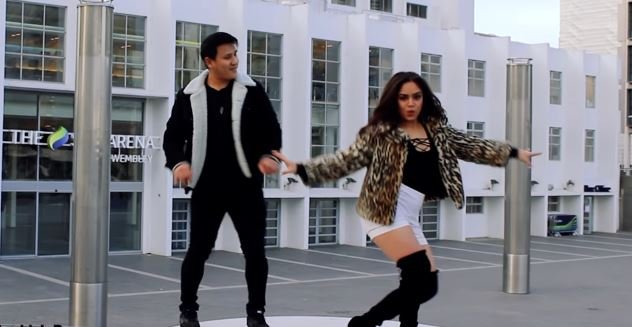 Aiseluma is a New Aadhunik Nepali Melodious Romantic pop song by Sujata Kafle. The music video features by Buddi Saru Magar and Pratistha Tripathi. Aiseluma is a Nepali song by Sujata Kafle which is directed by Saru Gurung Rana. Aiseluma music video was Cinematographed as well as edited by Aashish Raaz.
The music of this song was composed by Aashish Raaz and Lyrics of this song is written by Ram Kaji Rai. The music video is featuring by versatile hot model Pratistha Tripathi. Pratistha Tripathi is one of the hot and sexy model of Nepali music video Industry. This song shows that sometimes the love will be deep love without expressing it. Here in this music video, the love between Buddi Saru Magar and Pratistha Tripathi becoming deep without expressing each other. In this music, Buddi Saru Magar smile is enough for Pratistha Tripathi to express her love. When you once listen this song, I am sure you will keep repeating it.
The music video is released officially online by Music Nepal via Youtube. Hope that you will enjoy this Melodious Aadhunik Romantic pop Song Aiseluma.

Here is the lyrics for the song:
Aiseluma parechau
Jhadhu tuna
Mero mann chori
Lagyau kina bhana
Aiseluma parechau
Jhadhu tuna
Mero mann chori
Lagyau kina bhana
Mero mann chori
Lagyau kina bhana…

Muskan tyo lathai
Parne najar la marne
Jati tadha huna khojhayo
Jhanai najik parne
Najik najik jhan
Najik najik
Muskan tyo lathai
Parne najar la marne
Jati tadha huna khojhayo
Jhanai najik parne
Aiseluma parechau
Jhadhu tuna
Mero mann chori
Lagyau kina bhana
Mero mann chori
Lagyau kina bhana…

Lagna thalo aja bholi
Baisa chade jasto
Usla herda mann mero
Hunchha kasto kasto
Kasto kasto huncha
Kasto kasto
Lagna thalo aja bholi
Baisa chade jasto
Usla herda mann mero
Hunchha kasto kasto

Aiseluma parechau
Jhadhu tuna
Mero mann chori
Lagyau kina bhana
Aiseluma parechau
Jhadhu tuna
Mero mann chori
Lagyau kina bhana
Mero mann chori
Lagyau kina bhana
Mero mann chori
Lagyau kina bhana………