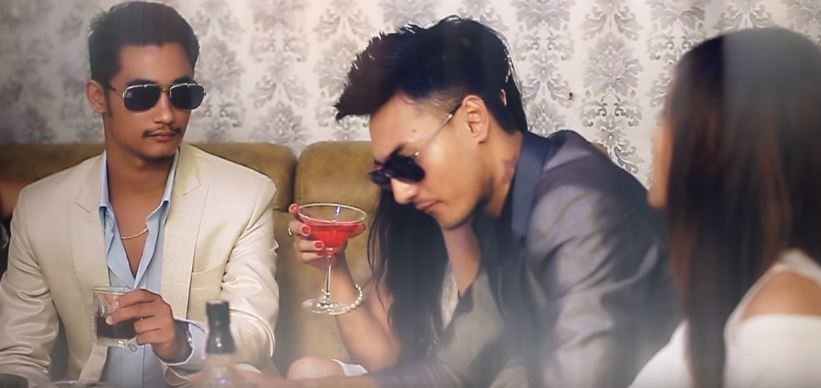 Baby is a new melodious modern Nepali Pop song by Arluv Gurung. The music video features Suzie, Bidhan and Fuba Tamang. Baby is a Nepali pop song by with Rap which is directed by Sanzip Rai. This music video was also edited by Sanzip Rai and cinematographed by Sanzip Rai and BJ Gurung.
The music for this song was composed by Sanzip Rai and lyrics was also written him. The music video features versatile models Suzie, Bidhan and Fuba Tamang. They all do the best movements in this music video. This music video is full of entertainment and romance. The beats for this music video was produced by Chronic Beatz. When you once listen this song, I am sure you will keep repeating it.
The music video is released officially online by arluvgurungofficial via Youtube. Hope that you will enjoy this melodious Pop song Baby.
 Here is the lyrics for the song Baby:
Baby…..
I wanna Tell U something
May b
U could b my girlfriend
Let's go…….
Baby AH,ah,ah,ah, i…
Wanna l…o…v..e.. u
In Dis Club Right NOw
We Can Flirt Right Now

B..o..y.. iiiii.
Wanna l…o…v..e.. u
We can dance aright Now
Right here right now

Aauna mero Najik Nachauna Ekai Xin
Herana Yo paal Kaatii Ramailo0…
Timro ra Mero Sambandha Hamro
Sadhaai Raahoss Cahana MAankoo

We Up in da v.i.p Baby Girls Sits next 2 meh
Ur Lyk n Esctancy It's All About U n me

Herana Aafulai Samalna sakina
Timi Nai Hunechau Mero Maanama

Girl Ur So fine Fine
Girl m so fly Fly
Coiple Sachet Of western Noite
Just a Make u wild Wild wild wild
Sunana mero Man Ko Bhawana Bujana
Aaideu Najik Timi Malai aangalana
Nachana Timilai Nasha na yana ma
Dj play That Music pumpin
Girls On da Floor GEt jumpin
Fly High lyk A spoylight Diva
baby Girl U got me Thinking

Herana Aafulai Samalna sakina
Timi Nai Hunechau Mero Maanama

Lets go it u boi Fuba On the Dance fLoor
Holla At Me Shawdy When U feelin Low
Lets get wild don't u ya The about to do
Ur Not Moves Make Me Move Lo go
aii Basi Deuna Timi mero Saath ma
Dangai Parnechau Timilai Mitha Mitha baat ma
Kehi ramailo paal bitauna Aaja Ko Raat ma
Mata Pagal Bhaye Shomrus ko maat ma
aauna Masanga Gaauna
Yo GEet Ko Taal Ma Taal milai Nachaana
Timro MAnko Kuraa Ma Sanga satana
Lets Get It to Love Najik Aaauna