Badhai Chha by Swaroopraj Acharya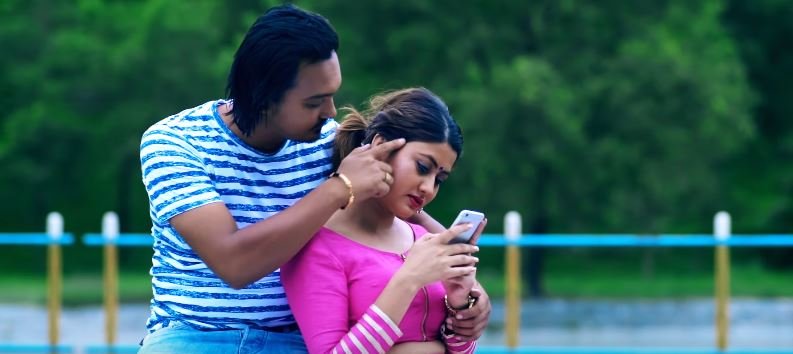 Badhai Chha is a new melodious modern song by Swaroop Raj Acharya. The music video features Bishwo, Sampada and Prabhu. Badhai Chha is a Nepali song which is directed by Netra Gurung. This music video was edited by Netra Gurung and was cinematographed by Prakash Gurung Kash.
The lyrics as well as music for this song is composed by Chandrajyoti Dhungana. Swaroop Raj Acharya was a playback singer. He has given his Melodious voice for many films and Nepali melodious songs. This is heart touching modern song. The talented hot model Sampada has played as a negative role in this music video. In this music video, you will get to see the pain which is causes by love. This music video deliver the message that never make someone special in your life because when they change you don't hate them instead you started hating yourself. When you once listen this song, I am sure you will keep repeating it.
The music video is released officially online by Music Nepal via Youtube. Hope that you will enjoy this melodious aadhunik song Badhai Chha.
Here is the lyrics for Badhai Chha:
Badhai Chha Badhai Chha
Badhai Chha Badhai Chha timilai
Maya ko badla ma ashu dine lai
Maya ko badla ma ashu dine lai….

Berthai prem ma malae
Aasha dilayau

Berthai prem ma malae
Aasha dilayau
Kasto bhawana timro
Bisha pilayau
Bharu diyeko bhaye huntheyo
Malae satha ra gali
Kina latyayau mero maya
Dobato ma phali
Badhai Chha Badhai Chha
Badhai Chha Badhai Chha timilai
Maya ko badla ma chota dine lai….

Kasto sasto maya
Hajarau lai pugna

Kasto sasto maya
Hajarau lai pugna
Malae sumpiyako dila
Puna phirta line
Maya gasera arkai sangai
Timi kaha bilayau
Phateko kapada jastai
Dhujha dhujha bhanayau

Kasto sasto maya
Hajarau lai pugna
Malae sumpiyako dila
Puna phirta line
Badhai Chha Badhai Chha
Badhai Chha Badhai Chha timilai
Maya ko badla ma ashu dine lai
Maya ko badla ma ashu dine lai
Maya ko badla ma ashu dine lai
Maya ko badla ma ashu dine lai………