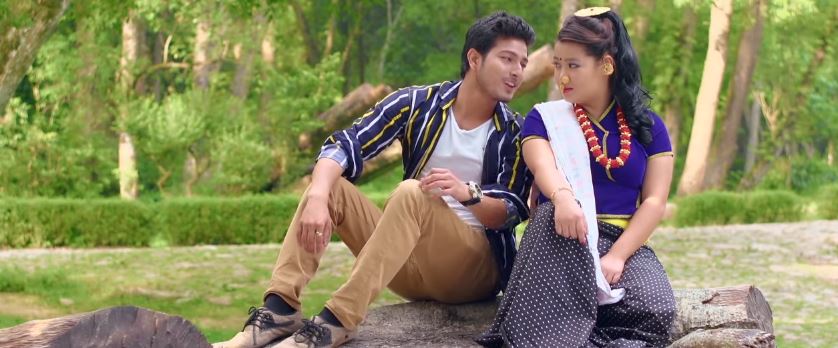 Bainsalu is a new Nepali modern song by Shree Rai. The music video features Pushpal Khadka and Shristina Rai. Bainsalu is a Nepali romantic successful love. This music video is directed by Bishal Rai. The music video was edited by Tekendra Shah and cinematographed by Gyanendra Sharma.
The lyrics as well as music for this song was composed by Shree Rai and music video was arranged by Yakub Rai. Pushpal Khadka is a gorgeous established model of music industry. He has given his best performance to many music videos and done model assignment too. In this music video artists Pushpal Khadka and Shristina Rai performed together and make this music video awesome. Bainsalu is presented by Bishal Chautari Media and music video was choreographed by Tayahangma Rai. When you once listen this song, I am sure you will keep repeating it.
Bainsalu is released officially online by HighlightsNepal via Youtube. Hope that you will enjoy this melodious modern song.
Here is the lyrics for Bainsalu:
Bainsalu jawani timro
Nasalu aakha ko chadke
Herae le bhutukai paryo ni
Chulbule adhar herda
Swarga ki pari jhai lagna
Rupa le bhutukai paryo ni

Bainsalu jawani timro
Nasalu aakha ko chadke
Herae le bhutukai paryo ni
Chulbule adhar herda
Swarga ki pari jhai lagna
Rupa le bhutukai paryo ni
Sanu hurukai paryau ni….

Tyo pari gauko kanchi lai
Mohani jal ma parau ki
Ma pani jhilke gauko
Kta bhagae lanchhu ni

Tyo pari gauko kanchi lai
Mohani jal ma parau ki
Ma pani jhilke gauko
Kta bhagae lanchhu ni
Chaubandi choli ra patuki
Nakai ma jhumki bhulaki
Kya ramri dhekhiyaki
Bainsalu jawani timro
Nasalu aakha ko chadke
Herae le bhutukai paryo ni
Chulbule adhar herda
Swarga ki pari jhai lagna
Rupa le bhutukai paryo ni
Sanu hurukai paryau ni….

Phula jhai lagne rupa ma
Kasai ko aakah lagna ho ki
Ma pani jhilke gauko
Kta tanerai lanchhu ni

Phula jhai lagne rupa ma
Kasai ko aakah lagna ho ki
Ma pani jhilke gauko
Kta tanerai lanchhu ni
Jharna jhai pankhi kesai ma
Sirai ma sir phul siuraki
Kya ramri dhekhiyeki
Bainsalu jawani timro
Nasalu aakha ko chadke
Herae le bhutukai paryo ni
Chulbule adhar herda
Swarga ki pari jhai lagna
Rupa le bhutukai paryo ni

Bainsalu jawani timro
Nasalu aakha ko chadke
Herae le bhutukai paryo ni
Chulbule adhar herda
Swarga ki pari jhai lagna
Rupa le bhutukai paryo ni
Sanu hurukai paryau ni
Sanu kutrukai paryau ni…………