Balla Chal Paye by Samir Acharya Ft. Rambo & Rozalin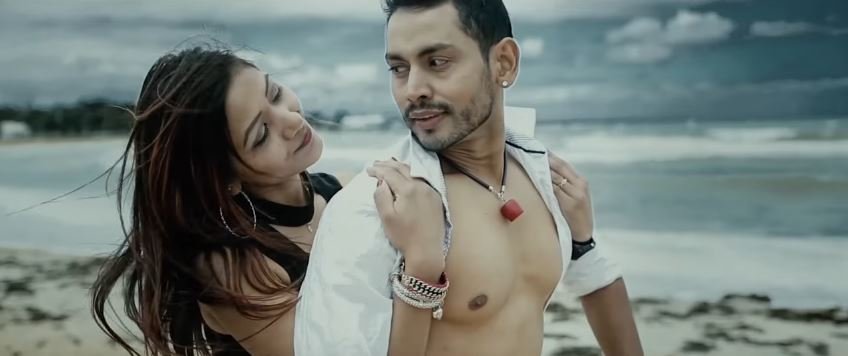 Balla Chal Paye is a New Aadhunik Nepali Romantic pop song by Samir Acharya. The music video features Rambo Adhikari and Rozalin Basu. Balla Chal Paye is a Nepali song by Samir Acharya which is directed as well as edited by Jeewan Roshaili.
The music of this song was composed by Anish Shrestha and lyrics was given by Raju babu Shrestha. The music video is featuring by Rozalin Basu. Rozalin Basu is a sexy, hot and beautiful model. The post production of this song is Golden Kangaroo Films. Here the Rambo Adhikari doesn't know by whom his heart was stolen. Rozalin Basu is a dream girl of Rambo Adhikari. She always appear in Rambo Adhikari dream.
The music video is released officially online by HighlightsNepal via Youtube. Hope that you will enjoy this Melodious pop Song Balla Chal Paye.

Here is the lyrics for the song:
Phutayara chati mero
Mutu lana timi rayachau
Phutayara chati mero
Mutu lana timi rayachau

Jiskiyara sapani ma
Bhagi jana timi rayachau
Jiskiyara sapani ma
Bhagi jana timi rayachau
Balla chal paye
Balla chal paye
Balla chal paye
Balla chal paye
Timro pachi pachi
Lagda Dherai gal paye
Timro pachi pachi
Lagda Dherai gal paye
Timro pachi pachi
Lagda Dherai gal paye…

Ukalima Haat dina
Timi theyau jasto lagcha
Ukalima Haat dina
Ukalima Haat dina
Ukalima Haat dina
hoo
Ukalima Haat dina
Timi theyau jasto lagcha
Thirkhauda pani dina
hoo hoo hahahahh
TImi theyau jasto lagcha
Aakha bata nind
Chori lana timi rayachau
Jiskiyara sapani ma
Bhagi jana timi rayachau
Jiskiyara sapani ma
Bhagi jana timi rayachau
Balla chal paye
Balla chal paye
Balla chal paye
Balla chal paye
Timro pachi pachi
Lagda Dherai gal paye
Timro pachi pachi
Lagda Dherai gal paye
Timro pachi pachi
Lagda Dherai gal paye…

Afno mutu chori ladha
Pattyo pauna sakiyana
Afno mutu chori ladha
Afno mutu chori ladha
Afno mutu chori ladha
hoo
Afno mutu chori ladha
Pattyo pauna sakiyana
herda herdai bhagi gayau
ROkna chakana sakina
Mero mann ko sukha chiyana
Khosi lana timi rayachau

Jiskiyara sapani ma
Bhagi jana timi rayachau
Jiskiyara sapani ma
Bhagi jana timi rayachau
Balla chal paye
Balla chal paye
Balla chal paye
Balla chal paye
Timro pachi pachi
Lagda Dherai gal paye
Timro pachi pachi
Lagda Dherai gal paye
Timro pachi pachi
Lagda Dherai gal paye…