Bhaigo Uni Jaun (Audio) By Jems Pradhan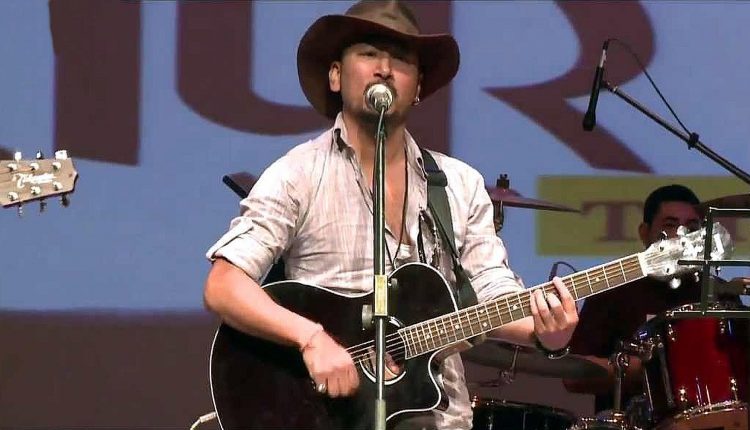 Bhaigo Uni Jaun is a Melodious Nepali  pop song by Jems Pradhan. The song is very interesting and loving. In this song James give the uniqueness in music because it is different than other normal songs.
The music and lyrics of this song is written by James Pradhan. He is a Nepali musician. He has the uniqueness in this voice and his creation in far unique than others. He introduces many different and rare music in the music industry. He is one of the most loving singer in Nepal music industry. His album 'Aawaaz' is arguably one of the most popular albums of all time in Nepal's modern music industry. I suggest you guys, to listen this song.
The music video is released officially online by Jems Pradhan Nepali via Youtube. Hope that you will enjoy this Melodious pop Song.
Here is the lyrics for the song Bhaigo Uni Jaun:
Bhaigo uni jaun chode ra jane lai
Bhaigo uni jaun tarkera ra jane lai
Maryo ni maya le eak lo paryo jyan
Bhaigo uni jaun chode ra jane lai
Bhaigo uni jaun tarkera ra jane lai
Maryo ni maya le eak lo paryo jyan
Bhaigo uni jaun chode ra jane lai
Bhaigo uni jaun tarkera ra jane lai
Maryo ni maya le eak lo paryo jyan
Bhaigo uni jaun chode ra jane lai
Bhaigo uni jaun tarkera ra jane lai
Maryo ni maya le eak lo paryo jyan

Baagi jani khola yo farkinna
Tima na bhai kai kura chekinna
Mata hinde bhehuli khoj na Jadi taksi ma
Bhage jani khola yo farkinna
Tima na bhai kai kura chekinna
Mata hinde bhehuli khoj na Jadi taksi ma

Dhaka topi lau daura ra surwal ma
Eauti keti laun eadaiba baisa ma
Uumer yo ga chaina kancha mero naun
Dhaka topi lau daura ra surwal ma
Eauti keti laun eadaiba baisa ma
Uumer yo ga chaina kancha mero naun

Bani chaina dhmra pan madhira
Eauti badhu chahi ye ko cha kopila
Zindagani bitauna garo parya cha
Bani chaina dhmra pan madhira
Eauti badhu chahi ye ko cha kopila
Zindagani bitauna garo parya cha

Sajai rakun la suna ra chandi ma
Rangai rakhun la aaj kal ko fashion ma
Jagir chandai cha yo kamai dhamai ma
Sajai rakun la suna ra chandi ma
Rangai rakhun la aaj kal ko fashion ma
Jagir chandai cha yo kamai dhamai ma

Yo sahar ma chandai cha eauta dera
Behuli khoj na aako ma bhula
Patyaene po ho ki hoina bihe garnu ma
Yo sahar ma chandai cha eauta dera
Behuli khoj na aako ma bhula
Patyaene po ho ki hoina bihe garnu ma

Bhako poilo gai kati yo naaka lia
Aarko doli laun chaina yo kanchan lai
Aakasha ko faal aankaha tare ra mar
Bhanthe bau baje le dui ti bihe gar
Bhako poilo gai kati yo naaka lia
Aarko doli laun chaina yo kanchan lai
Aakasha ko faal aankaha tare ra mar
Bhanthe bau baje le dui ti bihe gar

Bhaigo uni jaun chode ra jane lai
Bhaigo uni jaun tarkera ra jane lai
Maryo ni maya le eak lo paryo jyan
Bhaigo uni jaun chode ra jane lai
Bhaigo uni jaun tarkera ra jane lai
Maryo ni maya le eak lo paryo jyan
Bhaigo uni jaun chode ra jane lai
Bhaigo uni jaun tarkera ra jane lai
Maryo ni maya le eak lo paryo jyan