Bhanchu Ma Timro by Sugam Pokhrel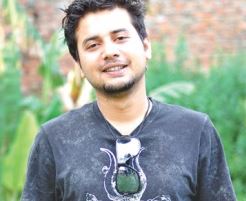 Bhanchu ma  timro is a romantic pop song by Sugam Pokhrel from his album Music Diary. The lyrics for this song is written by Dilip Saman and the music is composed by Dilip Saman himself. The video is directed by Ved Kharel.
This music video is oficially released online by Music Nepal via Youtube. Enjoy this beautiful song Bhanchu ma timro by Sugam Pokhrel.
Here you can find the lyrics for this song:
Bhanchhu ma timro
Kasam khaayera
Saath ma dinchhu timilai
Chokho maya laayera

Meri maayaa maayaa
Garchhu timilai ma
Meri maayaa maayaa
Garchhu timilai ma…

Laagchha timro saath
Harpal sadhai yesari
Nai bitaaidiu
Laagchha timro saath
Harpal sadhai yesari
Nai bitaaidiu
Harjanammaa timilai
Nai paairahu

Meri maayaa maayaa
Garchhu timilai ma
Meri maayaa maayaa
Garchhu timilai ma

Bhanchhu ma timro
Kasam khaayera
Saath ma dinchhu timilai
Chokho maya laayera

Meri maayaa maayaa
Garchhu timilai ma
Meri maayaa maayaa
Garchhu timilai ma
Meri maayaa maayaa
Garchhu timilai ma
Meri maayaa maayaa
Garchhu timilai ma