Bhanu K Ma By Nabin K Bhattarai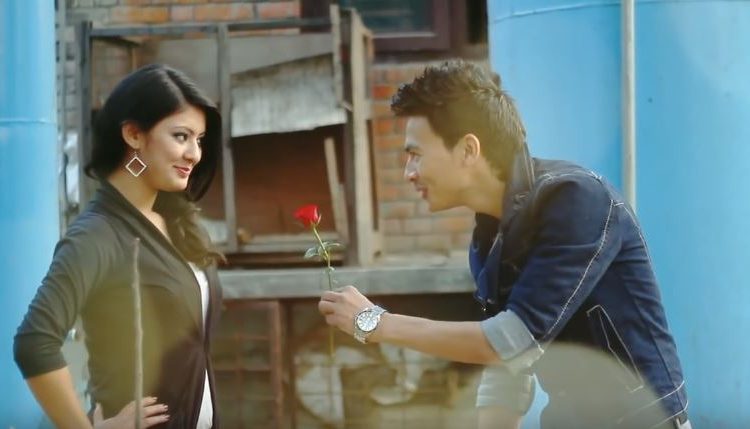 Bhanu K Ma is a new romantic pop song by Nabin K Bhattarai from album "Prem Katha". The music video features Paul, Sumira, Barsha, Kerwin and Priya. This music video is shows the life cycle of the play boy. In Bhanu K Ma audio was done by Conch music.
The lyrics for the song was written by Sumit Pradhan and music for the song was composed by Surya Chalise. This music video features gorgeous well known actress Sumira and Barsha. They both are gorgeous and looks beautiful. Barsha is one of the well known actress in film industry and she done lots of music videos too. And with them one of the handsome actor, model and dancer Paul Shah. All artists have performed in such a realistic way that music video will clearly represents the story that songs wants to deliver. The singer is one of the well known singer Mr. Nabin K Bhattrai. He is one of the famous pop singer. When you once listen this song, I am sure you will keep tuning it.
The music video is released officially online by Music Nepal via Youtube. Hope that you will enjoy this melodious pop Bhanu K Ma.
Here is the lyrics for the song Bhanu K Ma:
Bhanu k ma tmilae
Bayan tmro garu ma kasari
Chahanchhu sadhai tmilae
Dohoryaudaichhu hamro
Prem katha

We have our time
We have our life
But we had our love
To the screw world
We pass with the pain
We pass with the pleasure
We share such a moment
That we last forever
She said seen my smile
You've touched my chest
You've hold me tight
And give me a life
I said like your eyes
I love your lips
The way you praise
And the way you make me feel

Bhanu k ma tmilae
Bayan tmro garu ma kasari
Chahanchhu sadhai tmilae
Dohoryaudaichhu hamro
Prem katha

We'll miss the time
We pass together
The kiss we had
And the song we sang
I love you girl
I'll be loving u
till the day i die
And I swear there's to you
I love her
And she loves me
But we have to apart
What a misery

Bhanu k ma tmilae
Bayan tmro garu ma kasari
Chahanchhu sadhai tmilae
Dohoryaudaichhu hamro
Prem katha