Blended reviews and Box office collection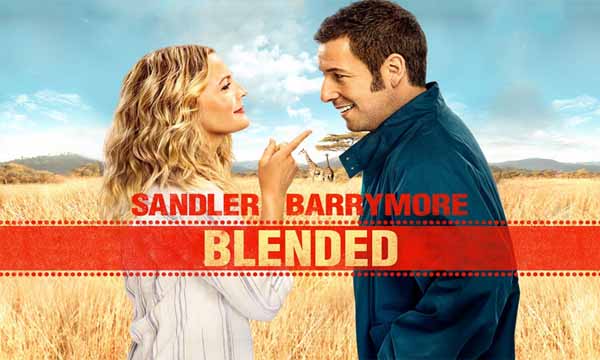 Released under the Warner bros Banner, Blended came to the theatres on May 23 2014. As the usual Adam Sandler movies goes with the cheap tricks and lengthy attempts to create something better than boredom, but 'Blended' brings his earlier co-star for the films 'The wedding Singers' and such, Drew Barrymore's amazing comical chemistry and frustration. The movie revolves around two single parents, played by Adam Sandler and Drew Barrymore who are stuck up after a terrible blind date. The date goes incidentally troublesome and frustrating for both the characters, which is topped heavily with the coincidental humor intrusions.
They agree to never meet, but again on an accidental note when Sandler drops by Barrymore's house to return the credit card she had forgotten at the place where they had their date, he overhears the latter's friend's break-up story with his boss. The friend whines how she is depressed that her and her partner's romantic trip to Africa is cancelled. Sandler requests his boss to trade the vacation with him and his four girls, while Barrymore explains to her friend how amazing it will be for her boys and her to have such an incredible vacation. Both of the families are stuck up together afterwards in Africa in absolute surprise!
The vacation is filled with the magical moments that bring together the otherwise fight-prone single parents and their gender specific families! The story finally sets to reveal the oneness and adventure they appreciate solely because of each other's company. The moments are overloaded with predictable comedies and humorous one-liners that hit right 'over' the deck.
Star Cast and Crew
The lead roles are Adam Sandler as Jim Friedman, Drew Barrymore as Lauren Reynolds, Shaquille O Neal as Doug and Bella Thorne as Hillary. The film is produced by Jack Giarraputo and Mike Karz; written by Clare Sera and Ivan Menchell; and directed by Frank Coraci.
Critics and reviews
Critically the film has gotten the maximum of negative reviews. There is no surprise element in terms or plot or comedy and top it, the dialogues spell out the obvious to disappoint the audience further.
On rotten tomatoes, the movie has gained a 14% as the rating averaged over 115 reviews, most of which were strongly negative. Metacritic has scored the film a 31 based on the 31 reviews, all of which were negative!
Chief critic of New York Times has critiqued it as "its retrograde gender politics; its delight in the humiliation of children; its sentimental hypocrisy about male behavior; its quasi-zoological depiction of Africans as servile, dancing, drum-playing simpleton", to conclude, "Parents strongly cautioned. It will make your children stupid."
Most of the critics state that it's just another of Sandler's vacations on account of a movie. They travelled to the luxurious Sun City Resorts, Africa for Blended.
BoxOffice Collection and Budget
Produced at a budget of $45 Million, the film had a very pathetic opening as compared to other films of Sandler. It collected $14 million in the first three days of opening and has collected $20 Million till date, but that suffices any of the big millions ahead!